POST MAY CONTAIN AFFILIATE LINKS- READ DISCLOSURE FOR INFO.
My idea of interesting and unusual travel souvenir ideas changed in the 70's. I lived on South Padre Island and ended up at a party in a beach house owned ZZ Top's Billy Gibbons.
I was standing in the kitchen of "The Pink", as the house was known by local surfers, and was puzzling over an interesting cluster of framed designs.
"Fruit crate labels from all over the world," someone answered who could have been Billy but I don't remember (after all, it was the 70's). What I do remember is thinking that collecting and framing labels was a very cool souvenir idea.
I don't know about you, but souvenir shopping in traditional shops seems like a silly way to spend your money. Of course, you'll catch me sometimes in a souvenir shop. It's usually after I've had a few beers and think those mummified frogs playing poker are just too cute to resist.
Problems with traditional souvenirs
Really, these places are just usually too expensive for what you get – t-shirts, hats, cups, mugs, trinkets. Once you get home, you probably won't use or wear the thing for very long. Then it ends up in the giveaway bag. And worst of all, shopping in traditional souvenir stores keeps you tied to tourist areas, associating with other outsiders and not meeting the locals.
Following Billy Gibbons' lead, here's are some quirky, interesting and unusual travel souvenir ideas.



5 interesting and unusual travel souvenir ideas
1. Unique wearable souvenirs
Fabulous, funky finds are waiting for you at thrift and resale shops off the main road. Once, we were driving through a small town on the north-eastern coast of Puerto Rico when it started to rain. I ran into a little resale shop to grab a rain poncho and found an old woman tending the store. She was crocheting this simple top which I bought for $5. Ten years later, I still wear it frequently and think of our time on that beautiful island.
Dozens of thrift and resale shops from Asheville, North Carolina to Carmel, California have yielded up dresses, shoes, vintage Hawaiian shirts, totes, belts, and jewelry. Even better, when we want something with the name of the destination on it (like a t-shirt, cap or sweatshirt), you can find something with a slightly off-center twist like Port Isabel Tarpons, 60th Annual Swim Around Key West or Falfurias Fighting Jerseys – Mooo, ya'll!
Usual per item cost: $2-$10
2. Books by locals
On the first day of your stay in any destination, find the dustiest, most run-down used book-store you can. Ask the guy/girl at the desk for a book written by a local that gives you a feel for the place. Then prepare to be amazed. In New Orleans, a clerk recommended Twenty Stories
by Kristin Fouquet. Inside were short stories that took us to every hidden corner of NOLA. I lend it to friends traveling to the Big Easy.
On our first trip to Key West, we found Key West Island Books in Old Town. The store was tucked away next to a wonderful Cuban bakery. A clerk sold me VON COSEL
by Tom Spicegood, a macabre story of literally "undying" love on the island in 1930 that is too weird to be fiction.



On a second trip, I picked up Free Range Institution, an exciting and very local modern mystery by Michael Haskins. I took my purchase next door to the Cuban bakery and began devouring it over a buttery pastelito and a strong and very hot cortado
Every town has a used bookstore, you just have to search a little bit to find a place like Front Street Books in Alpine, Texas, The Book Junction in Huntington Beach, or hundreds of others.
Usual cost $.50 – $3
3. Original art souvenirs
The galleries in the high-end districts are out of my budget but I still love original art. It can be inexpensive to collect if you go where artists congregate. Thumb through the unframed paintings and drawings around places like Jackson Square in New Orleans or the Laguna Madre Art Gallery in Port Isabel. Check out artists co-ops. Outdoor festivals like those in Rockport and Port Aransas are also great places to scavenge.
Make it more interesting by getting something with the feel of the town, not just another rendering of a well-known landmark. One of my favorite finds is this picture of three guys dressed up like Charlie's Angels for a drag parade in New Orleans. Could anything better capture the feel of the French Quarter? These guys make me smile every time I look at them.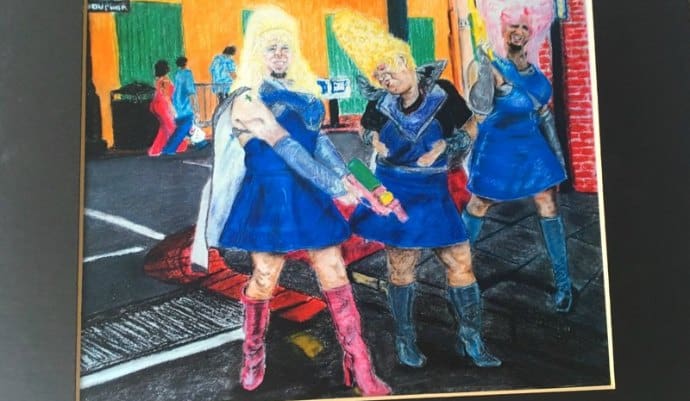 Another option for original art is a picture made into a memorable moment with a photo app. A friend took a picture of Steve, a blind mastiff sleeping under the pool table at Shorty's Bar in Port Aransas. She used Snapseed to massaged it into this work of art.
Usual cost – 0 to $20
4. Recipe Souvenirs
If possible, we stay at Bed & Breakfast accommodations or vacation rentals like HomeAway
. We've collected wonderful recipes, cooking tips and mixology advice just by asking our host what made this dish or drink so unusual.
On Whidbey Island off Washington coast, we had a filling muesli every morning. We asked for the recipe and used this simple breakfast for years on our campouts. The muesli combined cup oats, some yogurt, a little honey and fruit or nuts. Then you let it sit overnight in the cooler or refrigerator. Every time we eat this muesli, we remember our time on Puget Sound.
At the Old Castillo Inn in St. Martinville, Louisiana, the innkeeper flattened her beignets and made them spongy-er than the classics. I continue to experiment with her technique and the watermelon rind preserves she served with them.
I now drink my dark roast coffee with real cream and a bit of blackstrap molasses, just the way we had it while staying in a Louisiana plantation along the River Road. And I drink Vodka gimlets with lots of olives, the way they mixed them at Garcia's in Matamoros, Mexico.
Usual cost – $0
5. Cheap, portable & unusual souvenirs
Remembering the wisdom of Billy Gibbons, I grab swizzle sticks from restaurants, airlines, and hotels to use as coffee stirrers. I found this rattlesnake swizzle stick in a hotel in Marfa and get a kick out of it every day. Cardboard coasters are also great and are easier to find than matchbook covers which seem to have disappeared.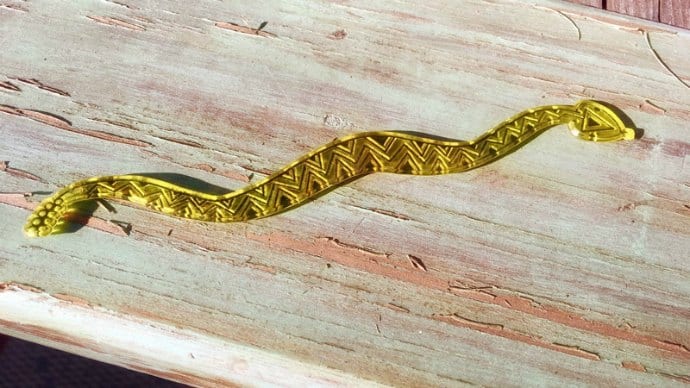 Concert art and literary event posters fill the bill sometimes, as well as plant cuttings where it is not prohibited to take or transport. Bring home a local beer or coffee can or wine bottle for a planter.
And of course, labels! Beer bottle labels, liquor labels, hot sauce labels, olive jar labels, – just open your mind and see what the universe serves you. Thanks for the tip, Billy.
Usual cost – 0-$3 (you're going to drink the wine or beer anyhow so it is a wash!)
What interesting and unusual travel souvenirs ideas do you have? Pass 'em along.zz