POST MAY CONTAIN AFFILIATE LINKS- READ DISCLOSURE FOR INFO.
Inside: How we found ourselves at an unintentional Bonnie & Clyde Texas wedding celebration in Llano. Simple, stressless and interesting with a whiff of outlaw danger.
Take away a propensity to rob banks and murder people and the couple whose marriage we were celebrating on a hot July night could be Bonnie and Clyde.
Both couples loved road trips, taking goofy photos, Fords and spending time with family.
While the love of family and visiting kin helped Texas Ranger Frank Hamer track down and kill Bonnie and Clyde, our friends had no qualms gathering with close and extended family on this special night.
I didn't know about the Bonnie and Clyde connection to the setting of this wedding until I did some research on the area.
That discovery thrilled me. I believe weddings don't have to be stressful and expensive, but they should be interesting, whether intentional or not. This bride and groom took advantage of a legendary place to unknowingly infuse an outlaw mystique to their Texas wedding.
And create a memorable weekend for themselves, their family and friends.
A wedding venue with a back story
The couple made it legal in Llano, Texas which is about an hour and a half from Austin. Llano was the edge of the western frontier until 1875. It's not hard to imagine that frontier even today as you leave the traffic and noise of Austin far behind when you cross US 281 on Highway 71.
The bride, groom, and guests had taken over a Llano venue that had operated for over 100 years, mostly as a hotel but reportedly as a bordello for a short time.
The Dabbs Railroad Hotel, built in 1907, is the last of the old Texas Railroad and River hotels, built along the banks of the spring-fed Llano River. The most frequent visitors were railroad crewmen. They would stay overnight at the Dabbs and then return to Austin. The Dabbs was the final stop on the line that linked the state's capital to the granite-rich Hill Country.
More notoriously, it was a stopover for that other Texas couple, Bonnie Parker and Clyde Barrow. The duo became national celebrities in the 1931-1935 "Public Enemy" era, due in part to Bonnie's writings and playful photos found in some of their abandoned safe houses.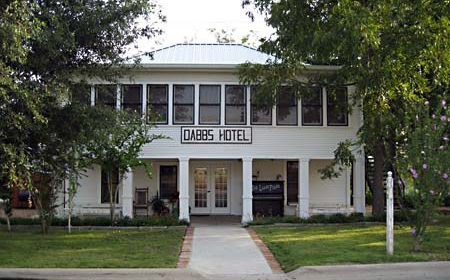 Outlaw Love
Parker and Barrow grew up in West Dallas. Bonnie briefly kept a diary in early 1929, giving us a peek at her teenaged years. In that journal, she wrote of her loneliness, her dissatisfaction with life in provincial Dallas and her passion for photography.
In January 1930, she was staying with a friend when Clyde Barrow walked into the friend's house and into the kitchen, where Bonnie was making hot chocolate. Clyde looked like the remedy for all her diary laments, and they fell in love.
Three months later, Barrow was sent to the Eastham Prison Farm for a string of robberies. Prison upped Clyde's game. He killed his first man while there; crushing the skull of a fellow inmate who reportedly assaulted him sexually. Paroled in 1932, Clyde had hardened.
A fellow inmate, Ralph Fults, said he watched Clyde "change from a schoolboy to a rattlesnake."



Bonnie still saw her sweet beau
Possibly blinded by love to Clyde's unhappy transformation, Bonnie was still committed the schoolboy she'd met in 1930. She loyally rode with her man throughout their short outlaw life and into the ambush in Louisiana that ended it on May 23, 1934.
There is a picture of the couple at the Dabbs Hotel with Clyde partially hidden behind his favorite getaway car, a 1934 Ford with the 221 cubic-inch Flathead 21-stud V-8. I couldn't find the date of the picture, but the presence of the new Ford means they were months if not weeks away from that ambush.
Did they relish those last days relaxing by the Llano River? Did they have any premonition how soon they would die?
Little changed from Bonnie & Clyde time
When Bonnie and Clyde "vacationed" at the Dabbs, there were seven rooms plus a large screened-in sleeping porch for the bachelors or kids. Very little changed from its look in the '30s except air-conditioning had been installed and the sleeping porch was now glassed in.
While the Dabbs Hotel backs up to the Llano River, there is also a public area where you can swim and float. The public park is across Highway 71 at the spillway on the other side of the Roy Inks Bridge.
The river separates the hotel and abandoned train depot from the town square and stately 1893 county courthouse.
The food carried on the outlaw theme
Inman's Kitchen catered the party. The barbecue joint started in 1967 with a very limited menu of beef brisket, ham and turkey sausage, which was their unique take on the traditional pork version.
Inman's quickly became busy catering for Lyndon Johnson's ranch down the road in Johnson City, for Willie Nelson at his July 4th picnic and at the Huntsville Prison Rodeos.
Our friends' unplanned outlaw wedding theme continued.



Cold beer under the Texas stars
The wedding soiree was on the back lawn of the Dabbs yards from the riverbank. It was BYOB, fitting both the occasion and the bride and groom.
Cold beer was all you needed on a star-filled Texas night in July.
After a couple of rigorous games of washers, the bridal couple and friends took to the river to cool off. Bonnie and Clyde would have approved.
Not a town devoted to tourism, thankfully
Llano itself was a wonderful surprise too. Feed supply stores, a neatly maintained square, and old cowboys dozing on the benches of the courthouse. This place was authentic ranching town. But for how long?
The whims of tourists were recognized but "the tail didn't wag the dog" as it does in Fredericksburg, one of the most popular Hill Country destinations. That town has become too precious for me, more like a Hill-Country-themed Disneyland.
Bordering the busy and postcard-perfect Llano courthouse were some trendy shops that would have made the cut in Fredericksburg but it also had the junk stores and the old book places we love.



The jumbled establishment back behind the courthouse drew me in. A stout man in overalls and a feed store hat sat behind the counter, listening to country music on an old bakelite radio.
I found a ragged copy of "Haunted Mesa" by Louis L'Amour and took it outside to read as I sat on a weathered bench and waited. Hank inspected every rusted tool and farm implement for another 45 minutes before buying a pair of pliers for $1.
Walking back to the hotel, we stumbled upon the Spotted Possum boutique in a pink clapboard house near the empty train depot.
Browsing there, I found a diaphanous coral-colored t-shirt, better suited for the heat than what I brought for the evening wedding. Or maybe I had to have the t-shirt because it went so well with a wonderfully kitschy cowgirl necklace. That memento is my talisman reminder of this western wedding.
Our farewell sensations
We woke up at 8:30 on Sunday morning after the wedding to find that we were the only ones left in the hotel. Everyone else left early to hit the road for more adventures.
We grabbed the chance to wander around the quiet, empty hotel as it settled back into a peaceful wait for her next visitors.
Over a century of housing outlaws, in-laws, lawmen, prospectors, miners, and adventurers could wear you down, but the Dabbs was still warm and welcoming.
Where would you wed if you could do it over?