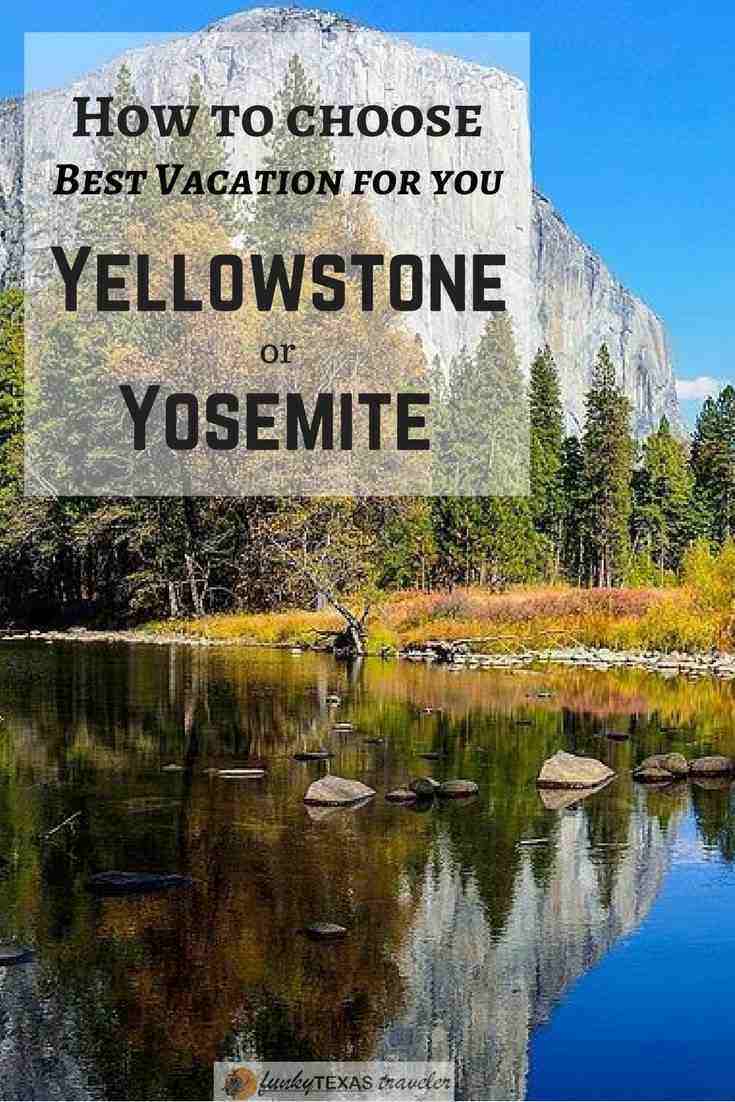 Yosemite or Yellowstone National Park – how do you choose which one is right for you? That was a question from Sharon on my post about getting your money-saving National Park senior pass.
To get the very best answer, I turned to some friends who would know. Jackie and Dewey are teachers who spend over a month each summer camping and exploring the west. They have visited both of these parks multiple times and put together some questions to help you make the right decision.
How long is your vacation?
This questions goes a long way to deciding if you visit Yosemite or Yellowstone.
Choose Yosemite if you have a week or less.
This national park is easier to access from a major city. Yosemite is about 150 – 170 miles from San Francisco, San Jose or Sacramento. US News & World Reports writes that "Yosemite is one of the most accessible and convenient national parks in the country."
Jackie says you can fly in, pick up a rent car and and pack a lot of adventure into a few days. Even getting to the park can be exciting. Your last hour or so of the drive from San Francisco into the park is on hairpin curves and can be thrilling or scary, with amazing views from the highway.




While Yosemite covers an area almost 1200 square miles, most of the best loved landmarks – Half Dome and El Capital – are within the 7-square mile Yosemite Valley.
Choose Yellowstone if you have at least a week or more.
If you fly to the park, you can land at Jackson Hole (JAC) or Bozeman (BZN) and rent a car. You'll need your own vehicle to get around in the park. Unlike Yosemite, there is no public transportation.
Yellowstone covers over 3,000 square miles with major attractions spread across five regions: Mammoth Country, Geyser Country, Lake Country, Canyon Country and Roosevelt Country. There is no central attraction area as with Yosemite. Driving distances between the major landmarks are far so plan to see less each day than in the relatively more condensed set up of Yosemite.
How do you feel about crowds?
Yosemite is definitely more crowded
Because of its accessibility and the concentrated location of its favorite landmarks, expect to see more people at Yosemite. That said, Jackie praised the extensive free shuttle service that gets you around the park and out of your car. Parking is difficult at Yosemite so she highly encourages taking public transportation. Also if you leave the driving to someone else, you'll get to sight-see more!
To deal with the crowds, US News & World reports makes this suggestion. "Visit the valley, but camp far away from the traffic to immerse yourself in the great outdoors." My camping-loving friends agree. The other reason to stay in the park is that many of the good ranger activities happen in the evening. If you're not a camper, book your rooms in the park as soon as possible – up to 366 days in advance.
Crowds are not a problem at Yellowstone.
This national park is remote and spread out, so while the park gets over 3 million visitors a year, you won't see many of them. Yellowstone has five entry points open in the summer but only one open in the winter. That characteristic also thins out the crowds you are likely to encounter. Just make sure your nearest park entry is open at the time you visit.
You can rough it , which isn't so rough with many campgrounds equipped with showers, flushing toilets and even laundry facilities. Like in Yosemite, lodging in and around Yellowstone books up far in advance, though Jackie caught a last minute room in Gardiner that provided a great base for this year's Yellowstone vacation.




Fitness level of your group
Yosemite is the best choice for vacationers with kids, seniors or with people who aren't regular exercisers.
This park ranked #1 for best hikes by US News & Word Reports. While you can make it an endurance sport, Jackie says that Yosemite had amazing trails with amazing views that all members of your group can enjoy without backpacking. Many hikes are easy to do from a car.
Yellowstone wins the toss for true adventure hiking and trailblazing.
Remote, isolated, and equally breathtaking and varied, Yellowstone will feed the "Jeremiah Johnson" in you. Just make sure you don't feed yourself to the permanent residents of Yellowstone.
And for a good read, when you get home from either park, Jackie recommends a great book called Yellowstone Has Teeth
. Enjoy!
Yosemite or Yellowstone National Park – Learn More
While it is great to talk to someone with firsthand knowledge, these two sites were incredibly helpful for familiarizing you with all aspects of each park: MyYellowstonepark.com and MyYosemitepark.com. Also check out US News & World Reports Travel Guides.
Happy adventuring and let me know about your trips!