POST MAY CONTAIN AFFILIATE LINKS- READ DISCLOSURE FOR INFO.
With Hurricane Harvey, you win a few and you lose a whole lot. Last week, I told you that the Texas Scow Schooner, the lovely Texas Butthead, come through okay. I found out the historic and much-loved Farley Boat works didn't do nearly as well.
Rick Pratt, director of the Port Aransas Museum delivered the good and not so good news in an email. "She (the Texas Scow Schooner) did indeed ride the storm. I was pretty sure that when I returned to the island post storm, I would have to track the boat and find it in someone's house or in a trailer park surrounded by shredded aluminum, but there she was sitting on her cradle with a smile."
Farley Boat Works in Bad Shape
Rick continued, "The Farley Boat Works was seriously damaged and we lost the storage barns where our small boat collection lived. We extricated 10 boats from the wreckage and now have no place for them to live.
The shop had three feet of salt water inside which ruined all of our power tools and left behind 2″ of slimy mud and a scrambled interior. The adjacent barn and remnants of the next-door building ended up piled against our back wall, pushing it in.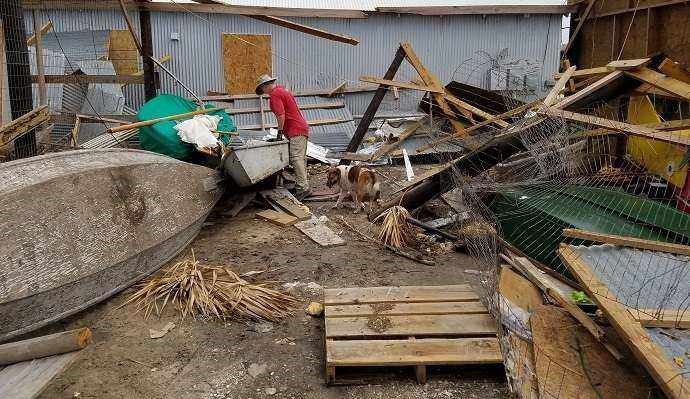 Our maritime exhibit hall also was damaged and we lost two doors, but happily none of the exhibits were seriously damaged. So we are digging our way out and ordering new motors for our tools so we can hold the annual Old Town Festival and Wooden Boat Show Oct 20-22."
Farley Boats are Port Aransas icons
The Farley Boat Works disaster is bad for morale around P.A. Locally built, Farley Boats set the standard along the Gulf Coast for fishing and sport from 1915 to the mid-1970's. Three generations of the family designed and built the boats in back of their home.




Farley Boats designed for local needs
In the early 1900's, tarpon fishing began to attract anglers from across America to Port Aransas. But the choppy Gulf Coast waters made getting to the fish treacherous. Local guides and fishermen were stymied until Fred Farley designed a craft with low-sides and a high bow to fight the rough waves.
FDR and the Farley Boats
President Franklin Delano Roosevelt caught "tarpon" fever and brought his own 35-foot fishing boat to Port Aransas in 1937. After catching nothing on his first outing, Barney Farley convinced the president to fish from a Farley Boat.
Roosevelt caught tarpon and returned to Port Aransas later that year to fish again with Barney Farley on his special boats. You can see video and articles those trips at the friendly and fascinating Port Aransas Museum.



Farley Boats resurrected
Farley Boat Works closed in 1975 but the Port A Garden Club started selling concrete Farley Boat planters in 2004. Painted in vibrant colors and filled with flowers, the planters are now all over town,
The boat planters kicked up interest in the homegrown company and in 2011 Farley Boat Works reopened as part of the Port Aransas Museum. You can attend boat-building classes or pay for materials and a volunteer will help you build your own boat. Kenneth Curlee, a transplant and a close friend from our family's surfing days, was in one of the first classes.
Another fan of Farley Boats
Unknowingly, Curlee owned the last Farley boat hull manufactured before the boat works went bankrupt. When Curlee relocated to to Port A, he bought an old RV park off Hiway 361. The boat hull had been reused as the roof of a small building and is now one of the "8 Wonders of Port Aransas"
That boat hull and Farley Boat that Curlee is building for himself and his wife rode out Harvey with minimal bruising. They found their boat floating undamaged in the flooded boat works warehouse.
Farley Boat Works will be back
So while it turns out that my first impression of the Farley Boat Works escaping Hurricane Harvey was wrong, the Farley Boat Works has staying power. It survived the 1916 Hurricane that flooded the island with water and rattlesnakes. It survived the 16-foot storm surge of the 1919 Hurricane.
Hard to believe Harvey will swamp the Farley Boats for long.