THIS POST MAY CONTAIN AFFILIATE LINKS. PLEASE READ MY DISCLOSURE FOR MORE INFO.
Mick Mikulenka is a cowboy, raconteur and Ag/wildlife tax exemption expert. If you don't know what an Ag/wildlife exemption is, you probably don't qualify. But that job takes Mick all over Texas and he has clued me in to some hidden gems. His favorite rustic Guadalupe River escape is Waltonia, also along Highway 39 and less than ten miles from River escape #1 – Eric's River Inn.
Our family discovered Waltonia and Mick through a third close friend named Judy. Waltonia Lodges was originally a fish camp opened in 1923 by Dr. William Lee Secor. According the their website "This section of the river was famed for its beauty excellent Black Bass, Crappie, Catfish and Perch fishing. Cottages / campsites were available then at a cost of $1.00 per day."
A rustic Guadalupe River escape since 1923
Thornton Secor took over in 1983. We first visited starting in the 1990's. The 16 or so cabins were spaced along a u-shaped caliche road with a big open area and pavillion in the center. Many of the cabins dated from the '30's and '40s and Thornton was slowly replacing them, one or two a year. The older cabins had swamp coolers, a new experience for our kids. For the first few visits, our family stayed in the older cabins. Judy and Mick stayed in cabin 10, then one of the newest and the base for our joint Memorial weekend activities.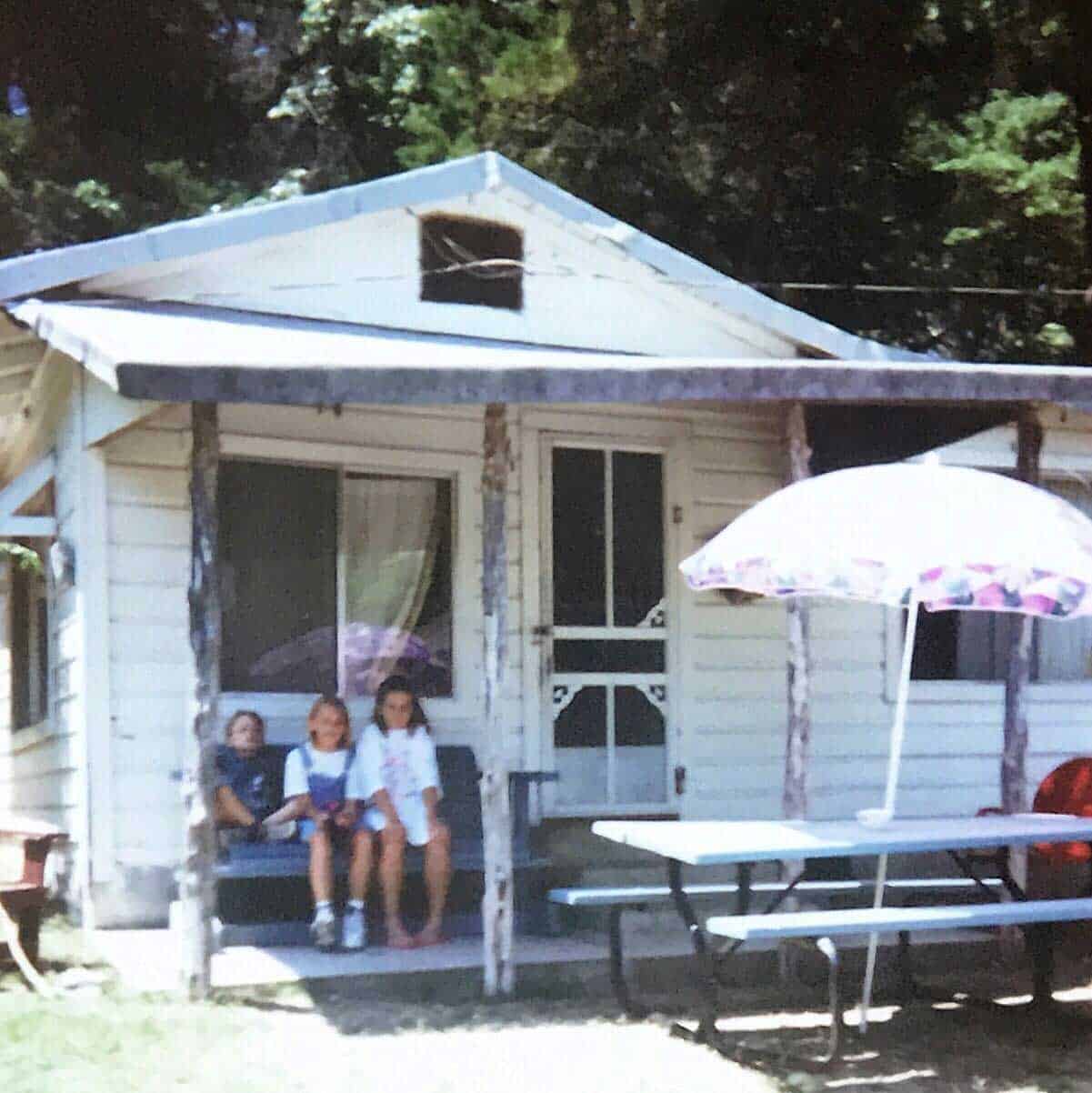 The cabins and pavilion were set well up and off the occasionally rampaging Guadalupe River. Waltonia has a huge expanse of open riverfront with a waist-high stone bulwark and deck, towering cypress trees and lots of room for lounging, running or getting away from the kids. You could swim across the river to a rope swing, burrow a canoe or float and while away the long summer days.




Complimentary puppy during your stay
Thornton raised border collies and the offspring sired by his dog Dusty were some of the best around. For many years, there was a crop of puppies ready for socializing right around the time we got there. The kids would drop their bags, throw on their bathing suits and head to Thornton's house/office to get a puppy to love on during the long weekend.
The puppies were just a small part of the animal menagerie at Waltonia. Thornton collected a wide variety of birds like guinea hens, peacocks and Tumbling pigeons – white birds with with feathered feet that looked like bathroom slippers. The pigeons were an ancient breed that could fly high, stall and roll to evade predators. The fuzzy slipper feet helped with those maneuvers. Another time, Thornton had rescued a whitetail fawn who found a friend in a young Russian boar that Thornton had inexplicably acquired. The unlikely pair roamed from cabin to cabin begging for Cheetos.
"What kind of beast is that?" said the vodka
So unusual was Thornton's informal children's zoo, that no animal would be out of place. We got there one Friday at dusk and I was relaxing near the pavilion with a vodka gimlet. I knew my long distance vision was not sharp but didn't realize I really had a problem. Then again, it could have been that second gimlet.
I saw an animal in the shadows by the river, a short distance away. It appeared sitting on over-sized haunches. "Damn, " I said, "Thornton got a wallaby." Suddenly its haunches started to separate from the main body of the animal. As I gathered my two kids closer and prepared to run, we heard a plaintive bleat. "Baaa, Baaa", cried the mother goat to her two kids, who had stopped nursing and started walking towards us. That poor animal became "Linda's Wallaby" for the rest of the weekend.
Mountain roads to walk
Waltonia has something for everyone who appreciated their rustic river camp vibe. In the mornings, Judy and I would put shorts and athletic shoes over our bathing suites and take long walks up the mountain roads. Near the apex of one road, hidden in the hills above Waltonia, was a small cemetery . Flowers always decorated the side-by-side graves of three family members killed in a car crash on Highway 39. We always stopped to offer a blessing for the quiet ones who slept here.
Young bucks would frequently race across the trails in front of us and hawks would fly high above looking for mice or bunnies. We'd return to Waltonia, strip off our shoes and shorts to go running down to the river. There the kids played while we floated on our chaise loungers, National Enquirer magazines and a pair of Tervis Tumbler
of Gimlets in our bags.
An unforgettable moment at Kitty's West
In the afternoon, we'd sometimes go to the Old Ingram Loop to shop at their outdoor fair and have a beer at Kitty's West Saloon. On a late afternoon, we watched a group of old men and women slowly gathering at Kitty's. One of the party kept an arm under the elbow a woman whose right side of was apparently crippled from a stroke. The old ones took over their favorite round table. Someone reached beneath the table and placed a napping black cat on the crippled woman's lap. Another of the woman's companions grabbed her a beer from the the cooler behind the massive wooden bar. The crippled woman sipped the beer and lovingly stroked the cat with her gnarled, atrophied hand. She was a picture of timeless serenity and the way I would want to grow old – surrounded by friends and memories.




Dancing and Rodeoing on a Saturday Night
On Saturday night, we'd comb our hair, change out of wet suits and drive to Crider's Rodeo and Dancehall to mingle with the locals and the counselors from the away camps, Many were young adults from different countries who wanted to experience life in Texas.
Our kids grew up and away. Some got married and some had kids. Kitty died and her saloon closed while Old Ingram Loop has become more well-known.
Of our group, only Mick keeps going back to Waltonia. This summer, I think I'll join him and Thornton. Many of the old cabins have replaced by newer air-conditioned ones. The swamp coolers are mostly gone. Who know what animals Thornton is now collecting. But that beautiful river still flows by and that spirit of a 1923 Guadalupe River Fish Camp remains. Don't deny your family the chance to experience this piece of the past.
Tell us about your favorite river getaway!
Related Posts: