Terlingua, a Big Bend ghost town refuses to die.
Like thousands of other little towns in Texas, Terlingua ghost town would have dried up and blown away were it not for Texans' reverence for chili And the advent of our brand of outlaw country music.
Jerry Jeff Walker's 1973 live album, Viva Terlingua introduced Texas anthems like "Up Against the Wall, Redneck Mother" and "London Homesick Blues" with that unforgettable line about going "home with the armadillos.

Chili and Texas Outlaw Country Music saved Terlingua
I'm not sure Jerry Jeff had been to Terlingua at that time of the album's creation. Walker recorded Viva Terlingua at Luckenbach, another Texas town that owes its continued existence to Willie and Waylon and the Boys.
But chili legends Wick Fowler and Frank X. Tolbert knew it well. And in 1967, they chose the town as ground zero for their impossibly ambitious Terlingua International Championship Chili Cook-off.
Getting to Terlingua is a chore
Like Big Bend National Park, there is no easy way to get to Terlingua. But if you love a fascinating and thoroughly funky destination, it is worth the trouble.
As part of our West Texas meander, my son and I took Amtrak's Sunset Limited from El Paso to Alpine where we rented a car.
The 83-mile drive from Alpine to Terlingua was like entering an airlock. It is as if you were suiting up and being pressurized to walk on the surface of the moon.
Only, in this case, you were decompressing and stripping down.
Leaving civilization behind
Outside of Alpine, we passed a few small subdivisions and RV parks. But soon it was just a curving two-lane road bordered by mesas and mountains.
No paved intersections interrupted the endless white lines heading south, only sporadic dirt driveways up to derelict house trailers or rundown homesteads.
The Big Bend area population density of one person per square mile was starkly apparent.
Fifty-five miles out of Alpine, we passed a sign for "Jackass Flats – no fighting, whining or thieving.' On down the road, homesteads started to cluster a little closer together.
Finally, we passed a few buildings including a convenience store and paved intersection. Big Bend National Park was straight ahead. Terlingua Ghost Town, Lajitas, the River Road and Big Hill were to the right.
"Modern" Terlingua vs. Terlingua ghost town
"Modern" Terlingua along TX- 118 had a few BBQ places and single story motels. Turning onto TX-170 toward the ghost town, we encountered more cars as we passed the location of the Chili Appreciation Society International Cook-off.
Hundreds of RV's crammed together in what my son called "a white people's refugee camp." We decided to give this Cowboy Woodstock a pass and keep moving.
Terlingua's roots are laid bare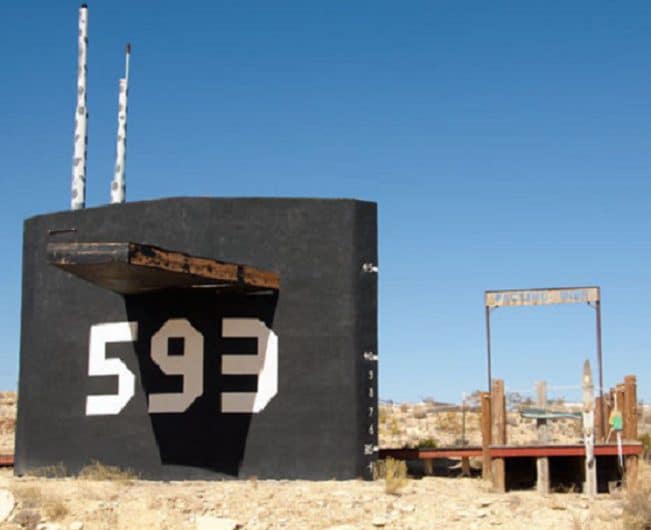 Up an ascending road, a shingle sign pointed to "Terlingua Ghost Town." We missed that turn.
But already the feeling of the place had changed. We passed the stranded conning tower of a submarine and a partially buried pirate ship called "Passing Winds."
The landscape became scrapped, gouged and treeless. We were at the heart of Terlingua's past.
Terlingua's mining boom
"This is not some abandoned movie set or a fabricated tourist trap. This was a real mining town that went bust, and the miners walked away, leaving their homes behind," says Ghosttowntexas.com.
In the mid-1880s, the discovery of cinnabar used to make mercury or quicksilver, brought miners to the area, and created a city of 2,000 people. The scarred and gutted landscape was part of the remains of Howard Perry's Chisos Mining Company and several nearby capped and abandoned mines
The accidental mine owner
Perry was a Yankee who had no interest in this part of Texas until he received some land around Terlingua as security on an unpaid debt. When Perry was offered more and more money for this raggedy holding, he got an attorney to investigate.
It turns out his neighbors' mining operation had strayed over to Perry's land. Perry got legal possession and founded the Chisos Mining Company in 1903.
Terlingua's abandoned mansion
In 1906, he started building the Perry Mansion amid the adobe houses of his miners. The mansion was based on the Moorish architecture from his visit to Almadén. It was two-stories tall with nine 10-foot arches and a 90-foot front porch.
The ruins of the big house sit stranded on a rise above the 1913 Chisos Store, which is now the Terlingua Trading Post. By 1936, Perry had added the Chisos Theatre and the Oasis Confectionery.
A shell of the theater is now the Starlight restaurant with nearby jail functioning as the restrooms.
Terlingua becomes a ghost town as mines close
The confectionery didn't sweeten life much for the mainly Mexican miners. While they were provided rent-free dwellings, accusations surfaced that the mine was a death trap.
By 1939 the Chisos Mine was pretty much worked out. Perry tried to rebound with silver and gold mines elsewhere, but he was bankrupt by 1942 and died two years later.
Ghosttowntexas.com sums up old Terlingua succinctly.
"Today you'll find a ghost town made up of decaying buildings, mine shafts, tall tales, ruins, crotchety old-timers, a three-legged dog, too much cactus, and semi-friendly rattlesnakes."
Sounds like my kind of neighborhood.
Funk is elevated in Terlingua
We retraced our route past the stranded submarine and turned up the dirt road, driving by the El Dorado Hotel and some improbably well-maintained muscle cars.
Retro Rents was our destination, a spread-out camp of five refurbished Airstream trailers strung along a washboard road.
Each trailer was named. There was Rosie, Josephine, Betty, Bachelor and the most recent addition at the top of the hill – 1977 24-foot Argosy/Airstream named Alice.
Sam, the town vet, owned the little aluminum herd.
We settled in Alice the Airstream
We got Alice and loved her from the minute we saw her. And the feeling just got stronger over the two days we lived with her.
She was set off by herself with the residents of the old Terlingua cemetery as her closest neighbors.
After reviewing Alice's idiosyncrasies with Sam, Shane and I opened our bottle of wine. Then we got out our treasures from the Ocotillo shop in Alpine.
We hung the wind chimes on a struggling sampling, lit the bundle of sage and waved the smoke around Alice to bless our stay. Our little deck faced east to peaks in Big Bend and beyond to mountains in Mexico.
We toasted our arrival and watched the changing shadows in front of us.
The cemetery up the hill
There is no better way than walking around to get familiar with a place, especially somewhere we would only stay for two days. We hiked across the patch of uneven desert to get a closer look at the cemetery.
Alice's front door was only two hundred steps as the roadrunner hops to David "Boss Bird" Tinsley's grave.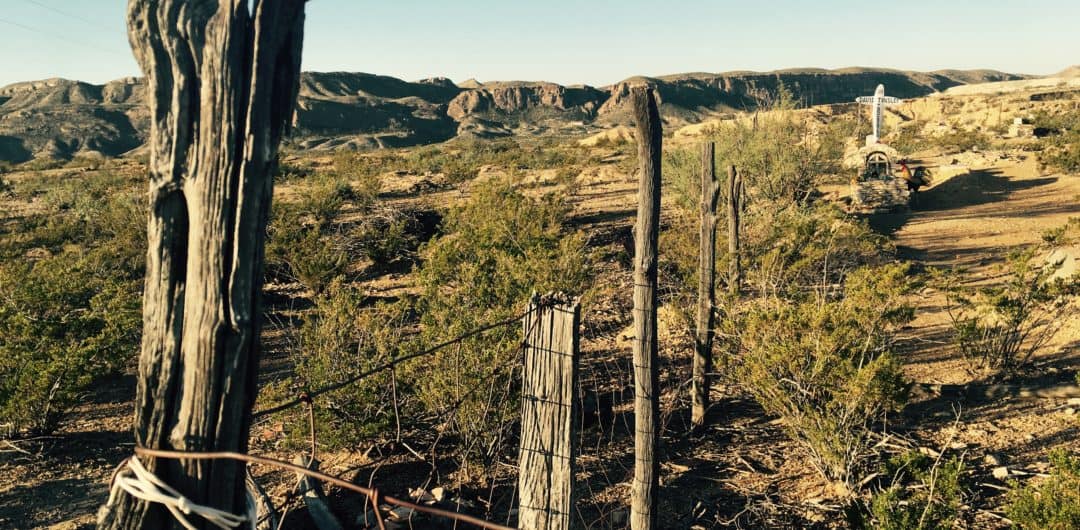 Tinsley had joined the quiet ones here in November of 2014.
In earlier times, he was known for the Tinsley's Chicken and Rolls, a franchise he founded in Huntsville and throughout East Texas. His grave was decorated with a metal rooster and other tchotchkes. The grave marker resembled a plane fuselage launching from a mud brick base.
This cemetery was as old as the mining operation, so Boss Bird was one of newer kids.
Doing business in an ice chest
Past the old graveyard, we stopped at Campground Creations. A dark-haired woman was sitting in a rocking chair.
She knitted while an exhausted young dog slept at her feet. An older hound slinked around the sides of the shop if you could call it a shop.
It looked like nothing so much as an oversized white Igloo cooler with turquoise trim.
The woman told us it was a 1940's dining car.
While it looked like it could have been a train car, it was never meant to ride the rails. Dining cars were a big deal during the Depression and were widely found throughout the country.
Everything was stripped out of this one, and the owner had lined the inside walls with burlap. Her grandmother had taught her to knit. She now sold headbands, bracelets, purses, hats and other woven goods out of this shop.
The young pup was a foster. The older dog was her constant companion. Both had come from the same organization that posted dog adoptions flyers all over the Big Bend area.
The defunct Perry Mansion
Leaving the knitter, we climbed up the dirt trail past the old company store building which is now the Terlingua Trading Post. Along the way, we saw more ruins of old mining cabins, rusted cars chassis from the '30s and '40s and a simple square chapel.
Most dramatic was the crumbling Perry mansion, overlooking the town Perry had built and ruled for a time, though he and his family never moved into the home.
Workers were shoring up the porch and arches of what had once been Perry's Moorish masterpiece.
Terlingua Trading Post and Starlight Restaurant
We walked back downhill to the Trading Post. Locals and duded-up visitors from the chili cook-off were drinking beer and sitting on the bench that stretched the length of the building,
The Trading Post has dozens of brands of bottled and canned beer. We bought a couple of cans and found two bar stools on the porch of the adjacent Starlight Theater restaurant.
The bar stools were bizarre with a horse's butt on one and a voluptuous female bottom on the other. They were similar to the big-butted mannequins we'd seen on San Antonio Street on our El Paso visit.
As more tourists crowded onto the Trading Post porch, we decided to beat the cook-off crowd and have an early dinner at the Starlight. The food was ok. The margaritas were a little too sweet. So far, I've only found one place in the country that makes them the slightly bitter way I like them, yet I keep searching.
Can crushing and guitar picking
After dinner, we walked outside to have another beer on the Trading Post porch. The sun had set, and we found an inconspicuous people-watching spot next to the busy can crusher.
A beat-up guitar was on the ground next to an elderly cowboy. The cowboy was sitting in a metal folding chair. His thin legs were crossed tightly at the knee, and he had that sucked-in, stooped-over look that makes some old people look like they are trying to keep warm.
I asked if we could use the guitar. "Not mine," the cowboy answered, "it just sits there all the time."
The guitar was missing its bottom string, but Shane was able to coax a few songs out of it – "Angel from Montgomery" and "Wild Horses."
La Kiva after the crime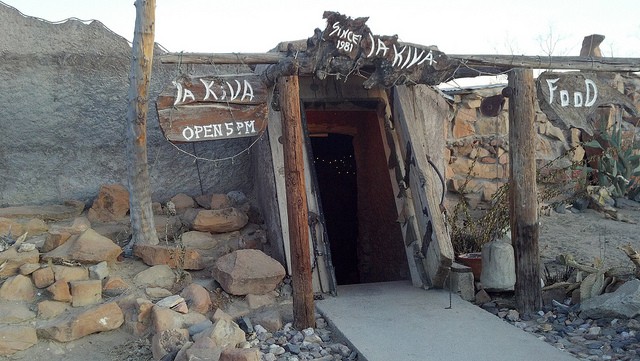 It was only 9 pm. Too early to call it a night, so we drove down to La Kiva, a cave-like restaurant, and bar that had fascinated us on our first visit years ago.
La Kiva had been around since the 1980s but had just recently reopened. A new owner took over after the previous one had been murdered in 2014.
The crime tore the town apart because this was not some random killing.
Glen Felts, the owner, was loved by everyone. The accused murderer, river guide Tony Flint, was loved by everyone. Felts and Flint loved each other, according to everyone. And according to a video that they shot the night of the murder.
Flint was acquitted in 2015 after claiming self-defense, in spite of outweighing Felts by 200 pounds. Rachel Monroe of Outside Online has the best story of the murder I've read and how it affected Terlingua.
Amid the chaos, the band played on
La Kiva was packed. The waitresses and bar staff were "in the weeds," trying to accommodate the chili cook-off crowd.
While the 2010 official population count of fifty-eight is disputed, reportedly because a woman collecting census data quit after being bitten by a pet javelina, the mob of chili heads who descended on the bar created chaos.
Shane and I got our drinks. Then we quickly vacated the bar to sit on a low stone wall and watch the band try to be heard over the drunk chili-heads.
Viewing the night sky from Alice
After a few songs, we returned to Alice.
The Airstream had wrap-around windows in the front. We turned off the a/c and opened all the curtains, bumping out the windows over each of our twin beds and also those in the front facing the east.
The sky was so dark; you could lie in your bed and watch the starscape changing all night long. I woke up around three in the morning and looked up the hill to the adjacent cemetery.
Awake at the Witching Hour
It was the witching hour when I feel especially unnerved by the supernatural. The ghost in ghost town felt palpable.
Our visit was just a few days after the Day of the Dead celebration. Faded paper flowers, empty whiskey bottles, and burnt out candles had littered the graveyard. Family members had put solar light sticks at the graves of some relatives.

A few of those faint solar lights still shone. It was noticeably colder in the trailer. Unfamiliar scratching and other desert calls drifted through our open windows. I covered my head with my blanket and faced away from the graveyard.
Finally, I fell back into sleep
Dawn woke me. As with the stars, I watched the sun rise over the mountains while still in bed, still protecting myself from the high desert chill.
This day would be spent exploring Texas' most remote National Park – Big Bend.
Showering in Alice the Airstream
Returning to Terlingua that second afternoon after lots of walking, climbing and sweating in Big Bend, Shane and I took turns trying out Alice's shower. Space was roughly the same size as the broom closet.
We'd swiped all the Elemis complimentary toiletries from the Holland Hotel in Alpine, and the tiny trailer smelled of European gels and lotions mixed with more sage smoke.
Relaxing with the locals in Terlingua
We were hungry, tired and not up to battling the chili crowds at the Starlight for a second meal. Shane had had his eye on the High Sierra Bar and Grill at the El Dorado Hotel because he felt like it was more of a local hangout.
We walked down Retro Rents' rutted path, past Alice's cousins – Betty, Bachelor, and Josephine – and out onto the main dirt road that heads down to Highway 170.
The High Sierra fit the bill. A guitarist named Dr. Fun was singing songs by Neil Young, Bob Seger, CSN. The room was wide open, and the bar had some empty stools. The vibe was relaxed and unconcerned.
We took a table for four just behind an empty round table for six.
After we'd gotten our meals and another drink, the round table started to fill with locals and longtime visitors who had competed at the chili cook-off.
Meeting some of the chili champs
That larger table had run out of seats, and a latecomer asked to borrow one of ours. When we nodded yes, he sat down to talk awhile.
His name was Bill Lester, and he told us that he'd won showmanship at the cook-off.
Bill was exuberant. Like a cruise director, he started introducing us to people around the place, including a guy who wheeled in a large marimba to the little stage and started playing with Dr. Fun.
The marimba player was named Moises "Cinco" Calderon and helped manage the High Sierra for his cousin, the owner.
A Strange Family Connection
Cinco had been born into both the restaurant and music business. His family owned and operated Memo's in Del Rio, since 1936, making it one of the oldest family Tex Mex restaurants in the state.
While Cinco had dark hair and eyes, he was named in honor of his father, Moises "Blondie" Calderon. The older Blondie got his nickname as a child because of his golden hair.
That Blondie was also a musician, who went on to lead the Cherokee Cowboys, the band that backed the legendary Ray Price. The fascinating stories you learn when you meet new friends.
Cinco had inherited both his father's name and talent.
Robert Duvall was a fan
We promised Cinco that we would get to Del Rio to visit Memo's and see his family's famous eating place.
I later learned that Robert Duvall was so taken with Memo's restaurant and Cinco's dad, that the actor hosted parties at the restaurant during the filming of Lonesome Dove. Blondie and his band were even invited to play at the mini-series wrap party in Santa Fe.
Had Terlingua inspired the Lonesome Dove setting?
Terlingua felt so much like the setting for Lonesome Dove that the whole story almost seemed contrived… but it was all true.
I'm glad Shane steered me in this direction. We waved goodbye to Cinco and Bill, put a hefty tip in Dr. Fun's jar and headed back to Alice.
One more night in our snug little tin trailer. Tomorrow we'd be moving on down the haunting River Road and the forbidding Big Hill.
,