Marfa was to be our bit of luxury at the end of our West Texas Wander but being in Marfa on a Monday put a different slant on the visit. Now I think Monday is the perfect time to visit as part of any West Texas adventure.
Marfa is in big danger of becoming the Aspen of Texas. It used a rail stop between El Paso and San Antonio and a watering hole for ranchers. Now, "local Marfans are losing ground to transplants from New York City and Seattle, the kind of people who thought they'd never set foot in Texas," Mallika Raowrites in the Huffington Post
Why we visited Marfa on a Monday
We'd left Big Bend National Park later on that November Sunday afternoon than planned. It was a long drive on the River Road that follows the Rio Grande River to Presidio. The River Road passes through terrain that can look like another planet, but we didn't stop to absorb the scenery. We were anxious to be off the road before sunset, but it would be worth it to linger as long as there is daylight.
Coming into Presidio as it became full dark, we were antsy to reach Marfa. Like horses headed for the barn, we'd been on the road for five days and were starting to get the traveler's sense that it is time to go home.
Sunday night in Marfa
We finally got to Marfa, checked into the Hotel Paisano and went downstairs for a late dinner. Never one to sugarcoat things, Shane said, "I love you, Mom, but I'm ready to be around someone else."
"I completely agree with you," I told him. We toasted his conquest of Big Bend's Emory Peak earlier in the day, both realizing the trip we'd planned and dreamed about for months was almost over.

The Hotel Paisano
Marfa had become an art/tourist destination and a major center for Minimalist art. Many shops and restaurants were closed on Mondays after the weekend rush.
The Hotel Paisano, on the other hand, was almost empty and all that we expected. El Paso's Henry C. Trost designed the hotel and construction started in October 1929 just days before the Wall Street collapse and Great Depression. Trost was the architect for university and office buildings, mansions and hotels from Marathon, Texas to Tucson, Arizona. We'd stumbled upon his work many times on this trip and overnighted in the Holland Hotel he had mapped out in Alpine. Alpine was a town that had changed her visitors instead of her visitors transforming her as we suspected had happened in Marfa.
James Dean slept here
In June of 1955, the Paisano was Warner Bros. headquarters for the filming of the classic movie, Giant. The lobby walls were filled with framed photographs of young Rock Hudson, Liz Taylor and James Dean wearing 50's era jeans and cowboy hats. Because of the lack of other guests, we could wander slowly in front of the images as if in a museum. I loved the candid glimpses of the stars goofing around on the desert set between takes and talking with the locals.
A souvenir of Marfa
If you enter the hotel from Texas Street, you walk through a peaceful patio with a flowing fountain on your way to the lobby. The hotel's address, however, is on Highland Street. Entering on that street, you'll have to maneuver through quite a few galleries and gift shops before get to the desk clerk. Not only were we on a budget, but we were also very limited on how much we could bring back on the train. Any impulse purchase had to be small enough to tuck in a backpack or a purse. I exchanged a quarter and four pennies for a green plastic swizzle stick shaped like a rattlesnake. I love to stir cream into my morning coffee with whimsical swizzle sticks so this was a souvenir of Marfa that would get much use. It also proved you could shop in Marfa (at least on a Monday) without a platinum card.
A quiet time in Marfa
After breakfast on Monday morning, we left our car at the Hotel Paisano and walked to the beautiful courthouse, the only other building that seemed to be open for business in town. From there we hiked into the residential neighborhoods and by the school. It was such a quiet, peaceful place, it was hard to think of all the celebrities that had bought homes and shops here.
Window shop without posturing
As we strolled back into the downtown area, we could "window shop" galleries in the truest sense of the word. If we say an interesting landscape, we could spend time absorbing it. If we saw something that repelled us, we didn't have to mask our disgust from a snooty gallery owner who would have correctly labeled us as rednecks. A judgment free time in Marfa – totally unexpected.
We ended up at the Marfa visitor center where a friendly young woman at the front desk confirmed that most of the town shuts down on Monday. On a side street, we found an open artist's studio in a decommissioned church. Two hounds snoozing in the sunlight of an arched window reinforced that on a Monday, Marfa wasn't "putting on the dog" for anyone.
Marfa on Monday disadvantage
The only disadvantage we found with a Monday visit, is that there weren't many open restaurants. We'd been on the go each day and hadn't eaten a real lunch since three days before at Reata in Alpine. We hoped to find an equally quaint place in Marfa, but that possibility was dimming. So we headed on to Fort Davis to eat, explore and kill time before it was time to retrace our steps back through Marfa to Alpine for our Amtrak that night. Fort Davis is only 22 minutes from Marfa but the experience was worlds away.
The Marfa Lights
Heading back from Fort Davis that afternoon, we again drove through the still-sleeping Marfa. Nine miles out of town towards Alpine, we passed the official viewing area for the Marfa lights that is open 24 hours, seven days a week. It was still early for any chance to see the bright, darting orbs that were first witnessed in 1888.
The viewing center was built at the abandoned entrance to the old Marfa Army Airfield, which churned out pilots to fight in WW2. Nearby Fort DA Russell was more interesting than a chance sighting of the lights. Fort Russell had been base for a Women's Army Corp unit, for troops guarding the U.S.-Mexican border and then a German POW camp.
German POW's and Marfa's art cred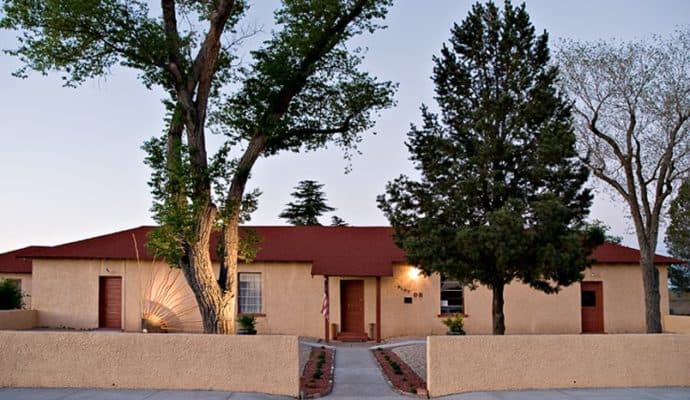 In the late 1970s, Marfa's patron art saint, Donald Judd acquired the former fort and began converting the buildings to house permanent large-scale art installations. Building 98, on the fort, now houses World War II German POW murals, completed in 1945 by Hans Jürgen Press and Robert Humpel, who were both German prisoners of war held at the base. The idea of a military camp morphing into an artist colony was intriguing, especially with the POW connection in both incarnations. You visit Building 98 by appointment only – you can contact the International Women's Foundation at 432-386-3212 for more information.
Jumping the train in Alpine
Amtrak app said the Sunset Limited was running on time so we drove back into Alpine. If you visit Marfa, consider taking the train to get a unique West Texas perspective. One thing I liked about Amtrak is that security was pretty easy. We could almost wait until we heard the train whistle entering Alpine city limits to lock up and leave our rent car under the tree by the train station and climb aboard. Time seems different when you travel by train and we liked that, at least this first time. Tonight we would ride the Sunset Limited back to Houston. I really wouldn't mind if we encountered some delays on our return trip.