Why do I say Port Aransas is a Texas version of Key West? Take the Conch Republic during Ernest Hemmingway's era and relocate it to the Texas Gulf coast and you would have present-day Port Aransas. Small fish camp cottages still outnumber sprawling beach houses, but that advantage is shrinking. Cabins arranged like tourist courts from the 40's, 50's and 60's are holding their own against the few chain hotels which recently started appearing. A ferry from the mainland or a long drive through Corpus Christi buffers Port A's complete transformation into a vacation-only destination.
Port Aransas is a Texas version of Key West with Tarpon
Tarpon, the big game fish that drew Hemingway to the most remote Key, was also one of the early names of what would become Port Aransas, the only town on Mustang Island. President Franklin Roosevelt, Clyde Beatty, and Aimee Semple McPherson (the first evangelist to use modern media) all visited and stayed at the Tarpon Inn. You can still check into this historic hotel. While there, you can admire two of the walls of the inn that are covered with Tarpon scales showing the date and initials of the fisherman who caught them.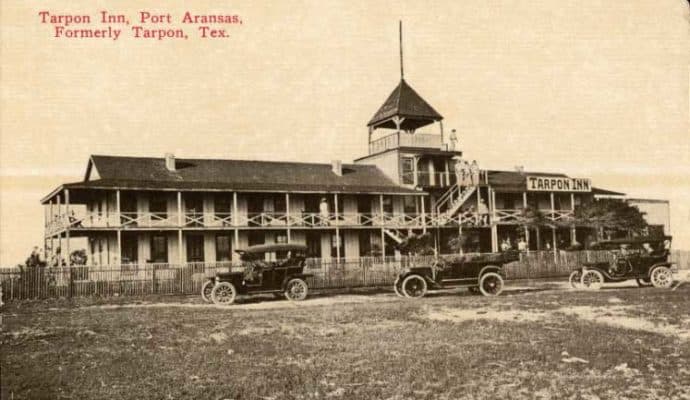 Surf brought us
I first visited Port Aransas because my daughter was pursuing the family sport – surfing. We got her first board when she was 13 at Pat Magee's Surf Shop (now Third Coast Beach on Avenue G). We were familiar with the conditions in Galveston and Surfside by our Houston home and South Padre Island, where the grandparents lived. Port A felt completely different.
Like Key West, Port A is a small, jumbled town. While you can drive on the beach, heavy posts protect swimmers, sunbathers and beach walkers from cars and golf carts. You can fish and cuss the surfers below from the Horace Caldwell Pier.
Our daughter eventually won a Texas State Surfing Championship and went on to compete in Costa Rica, Mexico, Australia and California. Still, we were most proud of her during a winter competition in Port Aransas when she "shot the pier.".
A busy jetties
Dolphins, pelicans, fishing boats and tankers at least the size of three city blocks flow in and out of the Port Aransas jetties. This on-going activity breaks the monotony for crabbers and anglers camped on the jetty slabs that contain the channel between Mustang Island and St. Joseph Island.
Before these man-made boundaries, this channel migrated southward over 200 feet per year. It took half a century and some reasonable and some pretty hair-brained attempts to arrest this movement. Ultimately hundreds of immigrant laborers completed the troublesome south jetties to secure this outlet into the Gulf of Mexico.

Eastern European immigrants helped build the jetties
Along with Mexican workmen, laborers from eastern Europe arrived through the port at Galveston to take on the construction of the south jetties. Some were Croatian – my people. While my grandparents and uncles entered through New York's Ellis Island in 1920's, apparently over 130,000 immigrants came through the Galveston port from 1846 to 1948. During that time, foreign-born Americans built our railroads and filled our newly erected factories. Turns out they also shaped our South Texas coastline.
After a long day battling the channel, these immigrants couldn't drink at the only bar in town. There was a rule that a town the size of Tarpon (Port Aransas) could only have one bar. I like to think that Tomas Jakasovitch relied on the same resourcefulness that the Slavs used to repel the Ottoman army in 1593 to deal with this minor obstacle.
According to the Port Aransas Museum, Jakasovitch got a scow built in Rockport, built a bar on top of it and towed it into place in Turtle Cove. He anchored it just a short distance offshore and left few rowboat and rubber boats on the shore for his thirsty patrons to use. It was a great success. Jakasovitch became the patriarch of the Matthews clan, a prominent local family.
The floor of the Deep Water Saloon was incorporated into the recently demolished Sportsman's Lodge. This lone-surviving relic of the Deep Water Saloon was preserved and will be rehabbed and housed at the Farley Boat Works.
The current

mayor is a descendant

The current mayor of Port Aransas is Charles Bujan. He is the grandson of Matteo Bujan, who came to work on the jetties in 1889. A few months ago, a friend and I had coffee with Charles and his wife.

The mayor talked about efforts to keep Port Aransas a family-friendly town, not just a tourist resort and second-home location. Bujan worried about families priced out of affordable homes and kids growing up without a sense of community if the town ever loses its school.

His uncles, aunts, and grandparents lived close by when Bujan was growing up. He remembered the mothers getting together for coffee in the late mornings and afternoons while Bujan and his friends rode bikes through the neighborhoods.
Bujan is more sensitive to the changes, but from my perspective, Port A has done an excellent job of fighting for balance. On a recent visit, local community groups and volunteer organizations were holding events like the city-wide garage sale, where we bought a bunch of beach chairs and carried them around town like coastal Sherpas.



Our Favorite Spots (Updated July 2018)
There are certain places and experiences we look forward to on every visit to Port A. We would be heart-broken if they ever disappear.
The drive from Aransas Pass to the Ferry
The last eight miles from Aransas Pass on the mainland to Port Aransas is via TX 361. It is a beautiful stretch across the Port Aransas causeway and the sparsely settled Harbor Island, with its kayak trails and crabbing piers. The road ends at the Port Aransas ferry for the five-minute ride across Corpus Christi Channel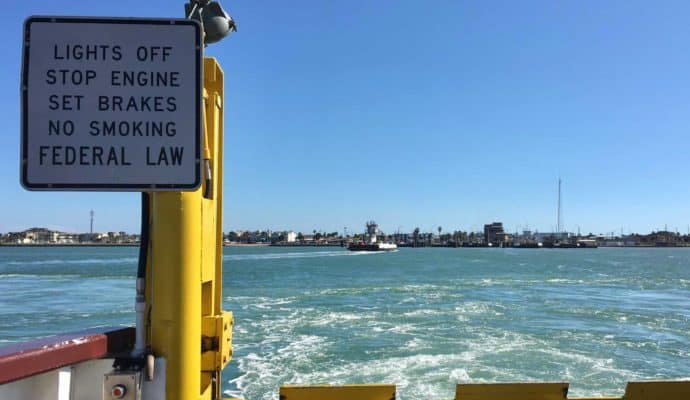 Here's a tip – use the bathroom at HEB in Aransas Pass. While the distance to Port A is less than ten miles, the ferry wait can be up to 45 minutes on holiday weekends. It's worth it though because this passage strips you down and dissolves your city attitude. And it's so much shorter than the drive from Miami to Key West. You can view ferry webcam here

Shorty's for the first beer of the weekend –
Update July 2018 – Open
Shorty's was built in 1946 by Mack Daniel & Gladys (Shorty) Fowler. It still operates around the year with fresh air flowing through open doors and windows. Bikers sit on barstools butt to butt with mothers and grandmothers out for a cold one. Dogs are welcome and occupy the space under the barstools. Even a handicapped dog like blind Steve, the mastiff mix, staked out a safe place between the bar and the pool table. Port A has a lot of good live music and Shorty's host bands and singers on their small porch. The area is so compact, it feels like sitting on your neighbors' porch. 823 Tarpon Street, Port Aransas, Texas 78373 (361)749-8224

The Gaff –
Update July 2018 – Open
Sometimes on a Saturday afternoon, we'll go to the Gaff on beach street. The Gaff stages regular belt sander races in their backyard. Last time I went, a guitar player accompanied the power tools with old country classics, a flatbed doing duty as his stage. The picker shared Willie's Nelson's first name but not its spelling and Willie's approximate age. It seems like a rough roadhouse bar, but the people are friendly. 323 Beach Ave, Port Aransas, TX 7837 (on my July 2018 visit, we had a beer with Turbo Trout, the returning belt sander racer who came out of retirement. Just because he could!)

The Back Porch Bar –
Update July 2018 – Open
Unless it is raining, we've been known to spend both Friday and Saturday night at the Back Porch Bar. Located on the marina, you can walk across a dock to a snack bar and bring to food back. That maneuver keeps the Back Porch dog-friendly with ample biscuits and water bowls. I was there on one hot summer evening when Gus, a fishing guide's big lab cooled down by suddenly leaping into the tank where they iced down the beer.
A drunk roughneck, celebrating his night off, decided to jump into the marina to cool down. A waitress called out as he was climbing over the railing, "Travis, wait! Take off your watch and leave it on the table." Travis obediently paused, unstrapped the watch and gave it to another patron before he dunked himself. That's Port A caring for its own. The Back Porch has live music and an adequate, but friend-making dance floor. 132 W. Cotter Avenue, Port Aransas, Tx 78373

Shells Pasta and Seafood
Shell's is so humble in outside appearance that when I walked over there with some friends from Austin and Houston, one asked if we were all sure we wanted to go in there. The inside is a little better but very small. The line waiting to get in and crammed chalkboard menu should be a clue that Shell's is something special. The same friend who wanted us to reconsider eating at Shell's on the first night now wanted to go back again for dinner on the second night.
Heber Stone opened Shell's in 1996 after having started work at many upscale eateries. Stone died in 2014, but our hostess said Heber had trained his cooking staff well and they carried on his tradition of great food. The place is small; you can raise your voice just a little, and they hear you in the kitchen. At our table, Rindy bellowed, "We want to meet the chefs!" so loud, it rattled the place. One of the young kitchen guys tried to duck out in embarrassment, but we corralled him for a picture. 522 E Avenue G, Port Aransas, TX 78373 · (361) 749-7621
Fins –
Update July 2018 – Open
Fins is a favorite for an afternoon lunch or snack because it is on the marina close to the ferry landing. While we usually hit Shells and Fins every visit, there are so many fun places to eat. Virginia's, Iries, Phoenix. Just ask a local to discover the next "find" – a kitchen started by a chef looking to kick back but inspired by the Port A feeling.
Lodging
When it is time to bed down – Port A has all kinds of lodging for every family and friend configuration. Starkey's Properties handles rentals for homes and condos. Those accommodations are spacious and beautiful, but my love of funk makes me particular to two special places.



Laughing Horse –
Update July 2018 – Torn Down (boo hoo hoo)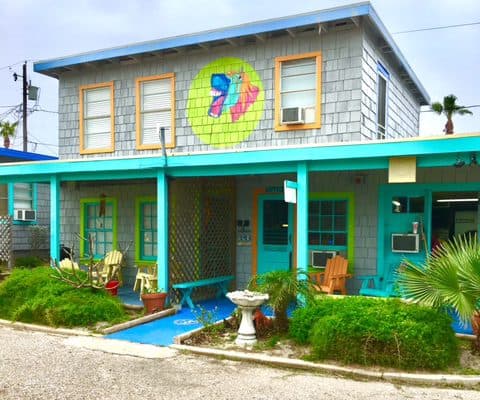 Laughing Horse cabins started life as the Seahorse Inn back when Avenue G, the primary access to the beach, was just a dirt road. I'd passed by the Laughing Horse for years but finally stayed there in 2017 for a girls weekend. Horse Sense, our cabin, reminded me of a duplex we stayed in on the north shore of Hawaii. It was clean, well equipped and exactly what you would expect from lodging over 60 years old. The riotous colors of the different cabins and the proximity to the beach, old town Port Aransas, shops, bars once again reinforced the Key West feeling of a walkable community. 503 East Avenue G at 11th Street, Port Aransas 78373 (Since we are now horse-less, we found a worthy replacement in the Dancing Dunes.)
IB Magee County RV Park –
Update July 2018 – Closed
Our other favorite place is IB Magee, a county RV park nestled between the South Jetties and the beach. A bike, a golf cart or your two feet can get us anywhere we like to go in Port A. I can't decide whether I like the Laughing Horse or IB Magee best. It depends on how long we have since at the Laughing Horse we drop our gear and go. But I have wonderful memories of camping at the Port A beach and urge you to give it a try. 1000 Lantana Dr, Port Aransas, TX 78373 ( Update 2018 – Camping on the beach at IB is open, but it's going to be awhile for RV park.)
It's all about the beach –
Update July 2018 – mostly open
The beach is why we travel all those hours from Houston, Austin, and San Antonio and the beach at Port A. is our favorite. We put up our canopies and tents, drag down our ice chest, light up the pit and open a book. Your car or truck is close by but not on the beach. Horace Caldwell pier has cold beer, suntan lotion, and a used book lending system. (Update July 2018 – parts of the pier still being repaired. Not sure what store will have when finished.)
The Port A Difference –
The beach, the food, bars, history and the quirky tourist courts make Port A different from other Texas beaches. Not necessarily better, but unique enough to make a visit to Port A seem like you are living in a different decade from a trip to South Padre or Galveston. I like to think my eastern European countrymen can claim some credit for its appeal.
(Update – Port Aransas is mostly put back together, but they need all our tourist dollars. Be kind, be understanding but most of all, be there often!)