POST MAY CONTAIN AFFILIATE LINKS- READ DISCLOSURE FOR INFO.
Looking for unusual places to eat in San Antonio? This visit, go beyond Tex-Mex to sample some of her traditional and non- traditional Texas dishes. If you're hungry right now, click here for summary.
That's what we did on a recent mini-vacation in San Antonio. With only two days to experience this Texas showcase like a local, we didn't want to spend time waiting in restaurant lines. Besides, we were starting the weekend off with a 10-12 mile bike ride along San Antonio River on the beautiful Mission Reach trail that took us to visit the other four Spanish Missions that settled San Antonio.
Expresso and Fiesta Bakery Goodies
It was host Jose's job to get us up and out of the house . He is a coffee fanatic who had just gotten a Breville expresso maker and was keeping us supplied with freshly brewed shots and steamed milk. For breakfast on Saturday, he stopped by the Fiesta Bakery near Probandt and 1-10 for pastries and what some Google reviewers call "THE BEST authentic Mexican Bread in all of San Antonio." Jose cut the different pastries into bite-sized pieces and toasted them. We spread the toasted bits with fruit jam that his mother had made or habanero jelly.

Missions, Drive-Ins and Fresh Food
The Mission Reach ride is absolutely beautiful. Aside for the missions, you see families fishing, kayaks paddling and many parks and resting spots. Read all about it here. The best part was that the exercise makes all food taste better!

As our pastries and express were wearing off, we peddled through the Mission Drive-In to see how San Antonio had revitalized an abandoned movie theater into the Mission Marquee Plaza. It was impressive, with a beautiful mural painted on the back of the screen, a regular schedule of Saturday night movies, a library and a monthly farmer's market. Here is the event listing.



Across the street from the Mission Drive-In was the real reason for this detour – the drive-through Fruteria La Mission. The cement block building was painted neon orange with a tin roof shading an outdoor dining area. A giant mural of all things of fruit and a little boom box playing scratchy Norteno music provided the ambiance.
Massive Fruit Cups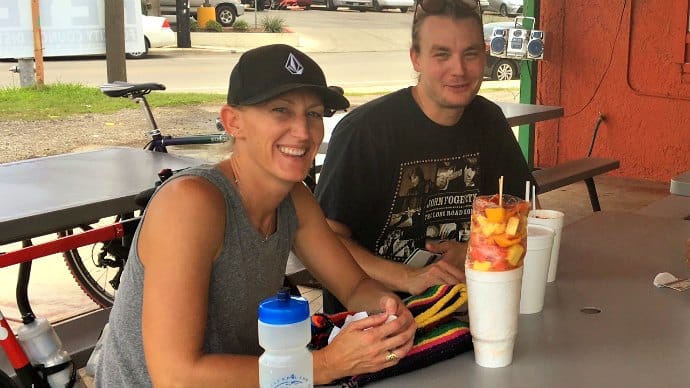 While giving our butts a breather from the bikes, we shared a typical local snack of a giant fruit cup. Your choice of mango, papaya, melon, pineapple and more , prepared with fresh lime juice and sprinkled with chile powder. The concoction is finished with a saran wrap "sweater" so the fruit can tower six inches above the large Styrofoam cup. We'd also shared two equally large servings of elotes – fresh cooked sweet corn on the cob, removed from the cob and mixed with mayo or sour cream, butter, lime juice, feta or queso fresca and chili powder. There was aqua fresca (yum-watermelon) to drink. All incredibly delicious, fresh tasting, filling and pretty healthy with no preservatives.
Missed Joel's BBQ Connection
Discovering Fruteria La Mission and this delicious, healthy lunch made up for the fact that we'd missed out on eating at a favorite place on our drive to San Antonio the night before. For many Texans, the trip on I-10 to San Antonio, New Braunfels and points west means usually getting off at exit 661 in Flatonia. What's at exit 661? All together now….JOEL'S BARBECUE! Joel's closes promptly at 8pm. We arrived at 8:22 and sat there for a forlorn moment staring at the sign.
Stopping at Joel's and eating sliced beef sandwiches outside while the semi-trucks and pick-up trucks blast by on the interstate is a Texas tradition. The first visit to Joel's is usually connected to summer fun. You're heading to the Guadalupe or Comal rivers or making a longer trek for your kid's first stay at summer camps like La Junta or Camp Mystic. Then Joel's BBQ starts to be a regular stop if you are anywhere near Flatonia. There are no doubt better BBQ places in Texas, but Joel's is like a roadside picnic from the 1950's. We'll probably hit Joel's on the way back. I recommend you stop too.



Beer break in the river
After our fruteria visit, we headed to New Braunfels for some time floating in the Comal River and sipping on cans of San Antonio Lager. Read about our little run-in here. By the time we got back to San Antonio after our float, we were ready for more food and adventure.
We were staying in a house in the area between Flores and Probandt Streets, just south of I-1o. Just north of the Interstate is the "arts anchor" of San Antonio – South Town and its Blue Star District. You can find it by looking for the Pioneer Flour Mills structure standing high above the rest of the landscape. Southtown is bordered by S. Alamo, S. Flores, St. Mary's and Lone Star Streets.
Places to eat in Blue Star District
The Blue Star is now trail head for seven mile Mission Reach. You can now bike to or from the missions with an interesting arts and entertainment district as a base. There are many restaurants and bars in the area.
Since we'd already ridden the Mission Reach trail earlier that day, we took the Subaru to Stella's Public House for "farm to table pizza and craft beer." We drank wine so I can't comment on the beer but the very thin, crispy pizza was good. We split one with prosciutto, arugula, mild mozzarella and burrata cheese. What's the difference between these two cheeses? Burrata is like mozzarella squared. The mozzarella is formed into a pouch and then filled with soft, stringy curd and cream. Did I mention I love cream? It was perfect for me.
We also shared mac and cheese, lamb meatballs and wonderful fresh bread. Anytime a place describes itself as "farm to something," I feel deprived if I'm not with people who like to graze. A friend who spent time in Spain taught me the term, "contentillo." With eating, it means to be satisfied but not stuffed. If you are drinking, "contentillo" is that point when you are just very relaxed but not "borracho" or drunk. I was totally "contentillo" after our dinner at Stella's.
Boozy ice cream
But we needed just a little something more to really finish our meal. So we were relocating for a dessert I'd been anxiously awaiting. We headed up S. Alamo to a small storefront with" The House, Boozy Ice Cream and Brews" painted on vintage glass door.
Robert Nickle and daughter Dani Nickle-Farmakakis offer beer, ice cream and ice cream infused with liquor. You can order a beer or glass of vino at the bar or get a cup of boozy ice cream. We got a flight which gave us a generous scoop of four booze-infused ice cream flavors. There was vanilla with bourbon, blackberry with chocolate liquor, the drunken sailor ( chocolate ice cream with all kinds of liquors mixed in) and our group favorite – coffee chip ice cream with Patron tequila. One reviewer called this place a hybrid of a dive bar and an ice cream shop.
If the infusion of liquor is not enough, you can get additional shots. If your companion is lactose-intolerant, they can have beer, wine or coffee. Because the TABC is pretty rigid where you drink or slurp your liquor, you have to eat inside The House but that wasn't a hardship.
South Alamo street in this area of South Town had a distinctly Magazine Street/New Orleans feel at 9 at night. The traditional San Antonio vacation sometimes seems like I'm still back in the 1960's during Hemisfair days. This visit was completely different. The bike ride, the river soak, the local food that had been topped off an the adult ice cream party. And we still had another day to sample different places to eat in San Antonio.
Another expresso-fueled day
On Sunday morning, after more expresso and homemade pancakes with habenero jelly and whip cream, we headed off to the Pearl Brewery Weekend Market. Open Saturdays 9a-1p and Sundays 10a-2p, it is a good way to sample the "South Texas growing, ranching and artisanal food community". Saturday is a producer-only farmers market but on Sunday, the market adds artisanal and prepared foods like cheeses, olive oils, breads, lotions, etc. All the vendors come from within 150-mile radius from market so it is a true taste of Texas.
What to eat at the Pearl Brewery Market
Being a Texas-centric market, I was surprised and delighted to find a booth selling something completely different from anything I've ever seen at a Texas Farmers Market. Boiled peanuts! For anyone who has spent time along the west coasts of Florida, Alabama, etc., boiled peanuts and smoke mullet are sold on the side of the road like shrimp and pecans here on the Texas Gulf Coast.
When I was a kid, I though boiled peanuts and smoked mullet were gross. Just like I didn't like avocados. Now I am passionate for both peanuts and avocados. Still working on the smoked mullet. Boiled peanuts are a very different taste and texture, a little like edamame but more flavorful. If you like edamame, I bet you'll love boiled peanuts.
Boiled peanuts are good for you – who knew?
Boiling peanuts in the shell apparently concentrates the antioxidants to four times the amount in raw or roasted peanuts. Who knew those roadside snacks were healthy? And they are also good for your stress level when you have vegan or gluten-free friends to feed. Lil's Reds is the Texas company betting that boiled peanuts will find a fan base in our state. Every weekend, they sell out of their traditional salted and their Cajun-seasoned peanuts.
Lil's Reds is a family operation born of the oil bust. Tony and Cheryl relocated from the Suwanee River in Florida to help out their son, Michael. Micheal had lost his oil industry job in South Texas around the same time he and his wife found out that baby Archer was on the way. Lil' Reds is named after Archer and his mom, Lacy. Grandma, grandpa, mommy, daddy and little Archer are hoping boiled peanuts catch on. Then Tony says they just might give smoked mullet dip a try.
A variety of taste, textures and flavors
Along with stuffing ourselves on boiled peanuts, we also ate Spanish chorizo, empanadas, almond flavored rice pudding, rosemary bread, all while drinking heavy wheat beer. The Pearl Brewery has a large lawn in the center of the market. Kids were running and rolling and jumping through a fountain. A live band played country music. You could play a mean game of dog bingo with all the different pure breeds, designer breeds and no-breeds walking around.
Part of our group biked back to the house, stopping at another fruteria on the way home. We hit the small HEB market on South Flores to pick up some salmon for dinner to combine with the flavored pasta and Swiss chard we'd bought at Farmer's market. Another delicious mean. Another muy contentillo day. I tasted a very different San Antonio this time.

Summary:
Eat
Joel's BBQ in Flatonia on the way to San Antonio
Fiesta Bakery for breads and pastries –
Fruteria La Mission for fruit cups, elotes, aqua fresca
House Boozy Ice Cream for beer and boozy ice cream
Lil's Reds for boiled peanuts to take back home
Pearl Brewery Weekend Market for farmer's and artist market with all kinds of edibles
Area to stay in
Blue Star District and Southtown Search thousands of privately owned vacation rentals.