Discovering San Antonio, south of Southtown helped me fall back in love with the Alamo City. Or more accurately, it took determining where to eat and drink in San Antonio south of Southtown to reignite the passion!
Be honest. Hasn't the idea of San Antonio started to look better on paper than in person? Especially once the kids were grown, and we were no longer proudly showing them where the heroes of the Alamo fell. Or watching them feed the ducks on the Riverwalk while us grownups huddled under an umbrella, enjoying frozen margaritas and a plate of nachos.
Losing the love for San Antonio Riverwalk
Once I quit seeing it all through my kids' eyes, I couldn't push aside being pissy over the traffic and the souvenir shops and the chain restaurants. The Hard Rock Café, Landry's Seafood, Saltgrass Grill and Rainforest Café were as romantic and authentic as Disneyland.
So I started spending time in Southtown.
And for a while, all was good.
Southtown used to be my place to escape the tourists that swarmed the Alamo and Ripley's Believe it or Not. In Southtown, no visitors dining at Riverwalk restaurants gawked at visitors eating on board the Riverboat tours like lions in a zoo checking out what the cheetahs in the next enclosure.
Southtown – Cool and maybe too hip now
Southtown contains the old warehouse area and funky King William historic district that hugs the lower Riverwalk. This area is now the hipster epicenter of San Antonio with the Blue Star Complex, housing galleries, restaurants, and lofts.
But hipper Southtown got, the less I felt at home. So once again, I've headed south. San Antonio south of Southtown to be exact. The area roughly south of South Alamo Street, West of Probandt and bordered on the east by South Flores. What's the southern edge? It seems to keeps expanding past I-10.



San Antonio south of Southtown – just right!
This jumbled section is allowing some gentrification but is true to a barrio soul. You get to dive deeper into what makes San Antonio a country unto itself.
Meat markets, bakeries and mechanic shops butt up against close-knit neighborhoods with chain link fences in front and backyard. These fences are meant to keep your dogs and kids safe, not close you off from your neighbors. That's a San Antonio south of Southtown given.
San Antonio River that started it all
And everything is within walking distance of far-less manicured stretch of the San Antonio River. Still a waterway, not part of the set design. More used with bike and hike trails and stone flats where you can put in a kayak or fishing pole. And all paths lead to where San Antonio started – the Mission Trail, now a UNESCO World Heritage site.



Eat & drink your way through San Antonio south of Southtown
What's the best way to get acquainted with San Antonio south of Southtown? Smell the aromas, sample the cooking, sip the concoctions. Chefs, bakers, brewers, and distillers are creating their own magic.
Here are five to start with. I'm open adding what you find to the list! Just scroll to the bottom and leave a not in the comment section.



Where to eat and drink in San Antonio south of Southtown
Chef Hernandez is making his mark in San Antonio with several places. Pet-friendly outside and a menu as colorful as the Mexican fruit stalls that inspired, I make this my first stop for any weekend in San Antonio. We usually make this our happy hour place and load up on botanas like Chicken Tinga Gorditas or cheese with a pumpkin seed crust and chips. Margaritas are made with infused tequilas. Yummy but a little pricey for dinner. (1401 S Flores St #102, San Antonio, TX 78204).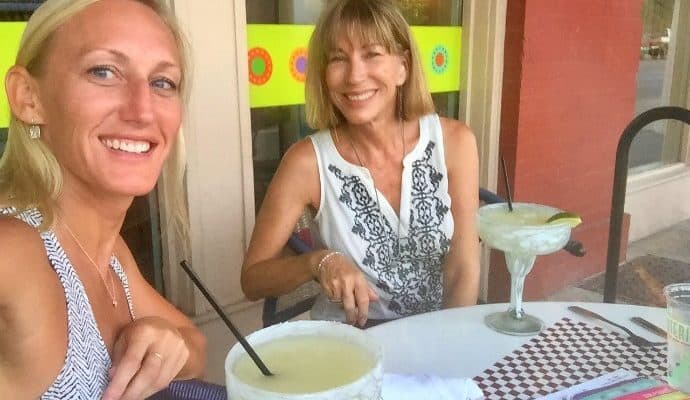 Incredible pizza, many using herbs from the community garden in the front yard. A small, neighborhood place built around the old oven (I' Forno) that gives the restaurant its name. Don't turn your nose up at pizza in San Antonio. This place is very seriously tasty. As are the items on the menu under "Not Pizza" – like charred green beans. And you cannot leave here without ordering the chocolate mousse. That would be a crime. Reasonably priced, local vibe. This is so San Antonio south of Southtown! (122 Nogalitos St, San Antonio, TX 78204 (a block off South Flores)
Hungover or not, mornings in San Antonio call for breakfast tacos. This little joint is smack is deep in San Antonio south of Southtown. South of I-10 and adjacent to the chain-link fence homes I love. I've never been able to sit down and eat in this place because it is always packed. But I've down carry-out many times and wouldn't miss it. (3228 S Flores St San Antonio, TX 78204)
The most relaxed, funkiest indoor-outdoor bar and grill this side of Shorty's on Port Aransas. Just barely in San Antonio south of Southtown and within spitting distance of the towering Pioneer Mills, La Tuna vibe is entirely different from the hipster feel of true Southtown. La Tuna is burgers, nachos and a roasted lamb sandwich that gets raves. I can't swear to the lamb because that seems so out of style for this place. But maybe out of character is entirely in character for La Tuna! (100 Probandt St San Antonio, TX 78204)
Germans brought Texas beer. Mexicans brought us Tequila. The Serbs at Dorcol are bringing us Rakia. Don't know Rakia or haven't tasted it? According to Wikipedia, Rakia or Rakija (/ˈrɑːkiə, ˈræ-, rəˈkiːə/) is the collective term for fruit brandy famous in the Balkans. The alcohol content of rakia usually is 40% ABV, but home-produced rakia can be stronger (typically 50%). Dorcol makes their Rakia out of apricots. And it is very good.
Dorcol also has beer, live music, and some food trucks stop by their industrial bar/distillery. Even the freight trains rumbling by on the adjacent track add to the ambiance. (1902 S Flores St San Antonio, TX 78204)



Take visitors to Riverwalk. San Antonio south of Southtown is for you!
If you've got friends visiting and they want to see San Antonio, you'll probably have to make it the obligatory Alamo/RiverWalk kind of weekend. But if you want more from the Alamo City, drive a car, ride a bike or hike the Riverwalk south to San Antonio south of Southtown. Before the crowds catch up.
Share your favorite hidden spots in popular destinations
You'll thank me! And remember to share any places you discover. I'm always ready for a road trip. Just scroll down to comments section and let me hear from you!