I've learned from some famous people that if you want to succeed in life, you must plan to be flexible. So flexible that you are open to success that may be absolutely nothing like what you thought it was going to be.
Like former Texas governor Mark White learned after his political career tanked and he went on to become a champion of education. Or the Texas Fruitcake queen learned when she raised up a baking empire from a need to spend time with her daughters.
Or Eric and Alex, high school friends from Houston, who about to blow up the rehydration market with Rally Recovery Drink, a product developed from what they learned nursing hangovers at LSU.
Testing Rally at Deer Lease & Hotter Than Hell Race
Their momentum is growing. You can buy Rally at Specs, Amazon and some HEB locations. Come this fall, HEB will carry it throughout the state.
I tried Rally a couple of weeks ago when we were working in triple-digit temperatures to get the deer lease ready. It passed that test.
I also gave bottles to some insane and aging Bellaire High School friends who are riding in the Hotter N' Hell Bike Race in Wichita Falls this month.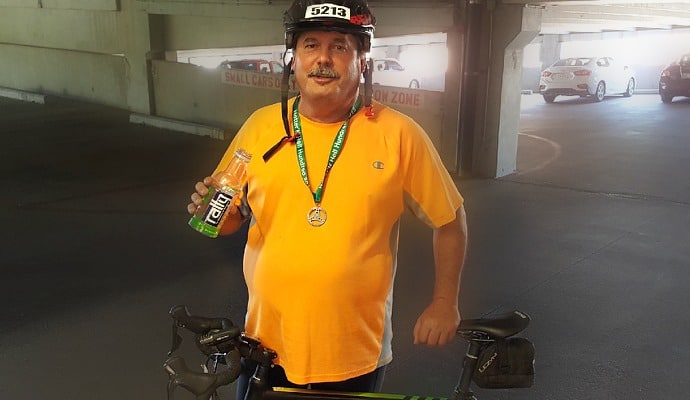 How Alex and Eric conceived Rally
Alex and Eric, both in their early 30's, never planned to be product developers or manufacturers. Eric went to Memorial High School. Alex, who went to Lamar High, met Eric at a house party and they've been arguing ever since. Both went to Louisiana State University.
Eric learned enough at LSU to pass the bar and become an attorney. Alex used his LSU diploma to become a money manager. Each got married. One has a new baby boy.
Life seemed planned and scheduled out for the next twenty years.
Except, that's not what happened.
Plan to be flexible – the nudge appears
As students at LSU, the problem was occasional hangovers. Now, as somewhat responsible adults in Houston, the challenge shifted to avoiding heat exhaustion whenever outside.
Heat exhaustion and hangovers share some lovely symptoms. Nausea, vomiting, dehydration. According to medicinenet.com, Rehydration with water or a sports drink is the cornerstone of treatment for heat exhaustion.
Plan to be flexible – opportunity reveals itself
But most sports or rehydration drinks were loaded with sugar. Gatorade's 12-ounce serving has 21 grams of sugar or 1.6 g per 1 oz. (Rally's 20-ounce serving has only 10 grams or .5 gram per oz).
Could that be the reason Eric and Alex noticed (and probably joined) athletes and over-indulgers shopping the baby aisle for Pedialyte, the oral electrolyte solution developed for infants in 1966? Pedialyte has .7 grams of sugar per ounce, less than half of what Gatorade has.
According to Alex, a third of all sales of Pedialyte are for adult usage. The guys were on to something.
Incidentally, if you want to see proof of how well-known this cure is for hangovers, stand outside Walgreens on the corner of Iberville and Royal Street. That store is just a few steps from the Hotel Monteleone and the rest of New Orleans' French Quarter.
Designing Rally for a health-conscious adult market
Alex and Eric saw drawbacks to Pedialyte becoming the go-to adult hydration drink. The packaging was too bulky to carry on a bike or while running. Flavors like Bubble Gum were good for kids, nauseating for adults.
And at almost $5 a bottle, the price was high for a Houston runner or a roofer who would need a couple of bottles to get him through his day.
Discovering the outside workforce market
For four years, Eric and Alex played with the concept of an adult hydration drink low in sugar, high in needed sodium and packaged and priced right for athletes. As they worked on Rally, they also realized there was a vast market with the thousands of Texans who worked outside in construction, oil services, roads, utilities and countless other jobs.
Eric and Alex were on the mark here. I told my land-surveyor son about Rally. He said he often encountered tradesmen in the baby aisle of CVS and Walgreens, picking up Pedialyte instead of the sugary hydration drinks.
Plan to be flexible – turning idea into actual product
As a first step to creating Rally, Eric and Alex called NASA to talk to them about food chemistry. Somehow that led them to a food formulator named, weirdly enough, Alan Flavors.
A few weeks later, the guys sat around the table at Eric's mom's house and opened a box that Alan Flavors had sent. Inside were Snapple bottles with the original labels steamed off. Each container was filled with a clear liquid and a hand-written tag identifying that flavor. Time to taste the samples.
"Once we didn't die, we figured we should go for this opportunity," said Alex.
Testing Rally on Eric's mom and her book club
Eric's mom lent them some money. She also let them test their products on her book club members. Here is some clarification for people unfamiliar with book clubs. A good book club consumes as much wine as literature. Proper hydration is a must.
Plan to be flexible – making the commitment
Alex eventually quit his money manager job to work on Rally business full-time. Eric is still a practicing attorney, but Rally is his client. They have some investors.
And the guys have all the usual growing pains. Learning about packaging, suppliers, marketing, distribution, retailers, and the hundreds of other variables that can make or break a good product.
Rally gains momentum
In a huge success, Rally will roll out in HEB statewide in December. A Rally powdered version is coming soon.
Houston's Major League Rugby team, the Sabercats, is officially promoting and drinking Rally.
Crossfit and other sports clubs are slowing discovering Rally. And I sent some out to the Hotter than Hell Bike ride to make sure I don't lose any friends as they pursue this foolish endeavor. And it worked!
Now, what's the plan?
For Eric and Alex, it is all starting to go according to plan. It's just not anywhere near the plan they thought they would be following when these Texas boys graduated from LSU. But it's all good. And they'll keep on with their plan to be flexible, wherever it leads.
Do you have a story of a Texan's success built on flexibility? Please share. I love hearing from ya'll.