THIS POST MAY CONTAIN AFFILIATE LINKS. PLEASE READ MY DISCLOSURE FOR MORE INFO.
Most go Texas tubing on the Guadalupe River while still in Pampers Easy Ups – Lucky Kids!
I was relatively late to this party, having grown up on Marine Corps bases on the east and west coast. For me, fun in the water meant one of three things. The easiest was jumping through a sprinkler, usually after a fresh mowing so that tiny little trims of grass clung to your wet feet and calves.
Or our parents would help us set up a bright yellow Slip N Slide Wave Rider
, strategically stretched out in the yard to avoid roots and rocks that would shorten our ride and the Slip N Slide
longevity. With my little, prepubescent belly, I looked like an emperor penguin tobogganing to the sea. Or we went to the beach. I don't remember any other option until I was a preteen.
Texas tubing on the Guadalupe for the first time
I first dipped a toe in the Guadalupe River along the River Road near New Braunfels when I was a young adult. "Going to the River" meant tubing and camping with friends or strangers and lots of beer. The spring-fed Guadalupe was freezing cold while the sun heated the rubber of the black inner-tubes to scorching. It was an exquisitely painful pleasure, flipping front to back on your tube to equalize your body temperature.



Depending on rainfall upstream of the dam at Canyon Lake, the Guadalupe flow could be anemic and barely able keep your butt from scraping limestone or so strong that only expert rafters could safely navigate it. You can now check on line here before you go. Miles downstream, you got out of the water. There you waited with other river rats for the retired school buses to drive you back to your camp spot along the River Road banks. Mountain Breeze and Camp Beans (830-964-2484) were my favorite campgrounds. Or Rockin R River Rides is a one-stop shop for tubes, transportation, even camping.
Schlitterbahn for when the kids are little
Once we had kids, the original Schlitterbahn replaced Texas Tubing on the Guadalupe. The water park was built along the spring-fed Comal River, the shortest navigable river in Texas at only two miles long. The name Schlitterbahn means "slippery road" in German, a nod to the immigrants who first settled here.
Schlitterbahn attempted to replicate the fun of a wild river adventure without the wild. It was safe, controlled and tidy, as befits a German endeavor. But I missed the Guadalupe River and longed for less managed excitement.
Time to get back to the Guadalupe
In July of a year when our kids were still preteens (about 20 years ago), I got my wish. As a teenager, my husband Hank had been drawn into the orbit of the peripatetic Dial family. Papa Dial was a petroleum executive who had dragged his six kids all over the Western hemisphere. Mama Dial was a teacher and survivor of the New London school explosion that killed over 300 students in 1937.
When Papa moved his family to Luling to build an egg farm, Hank spent time down there helping with construction and meeting the rest of the clan. By the time I married Hank, periodic and unexpected encounters with one of the Dial clan was a given in our life together.
Let's all gather at the river
As befitted kids of a nomad, most of them had scattered across to the world to work and raise families – Brazil, Mexico, Peru, Israel, Nicaragua and points in between. Mama and Papa remained in Luling until a collision with an egg truck killed Mama on her way to teach school in Harwood or Waelder. Papa passed a few years later.
Now cognizant of how quickly life could change, the Dial kids were gathering for a family reunion to go Texas Tubing at the Guadalupe River. Younger brother Mark had talked the owner of Camp Beans to reopen his campsite for us with a promise to repair anything we broke. Camp Beans had been closed when owner had a heart attack and couldn't handle the stress of hosting tubers.
No wall could keep them from coming home
From all directions we poured in. Six Dial siblings plus husbands, wives, girlfriends and offspring speaking different languages. Deep country cousins joined us from both Mama and Papa's sides of the family, a few with the unusual first name of "Rock". Hank and I, plus our kids and another friend shared a tent at the melee.
The kids tested their balance in the river by trying to wrestle one another off and into the river. When it was time to wash up, the younger ones stood in a line spanning the river. They passed the shampoo by throwing it upstream and letting it float back to the next user.



Waking up close
We ate over open fires, sang, drank and watched our kids communicate in the universal language of play. At bedtime, the five people in our group climbed in a four person tent. At 11 pm, with the evening still warm, we threw off our sheets to let the breeze cool us. As the night wore on, the ground beneath our tent cooled considerably. We awoke before dawn, piled together like puppies and covered with all our sheets and beach towels.
If you have never camped on River Road and gone Texas tubing on the Guadalupe, put that on your bucket. I know, I know, it will be hot and you'll get grimy but it is an experience not to be missed. My tent camping days on the Guadalupe are past but I'm so glad I have this memory to share with each new generation.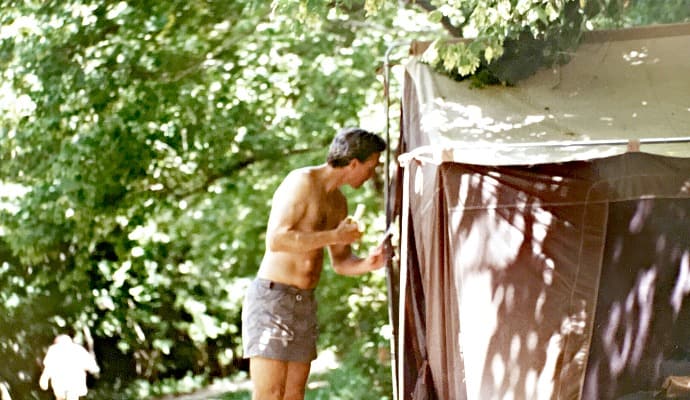 What is your favorite Guadalupe River escape? Come one, share!