POST MAY CONTAIN AFFILIATE LINKS- READ DISCLOSURE FOR INFO.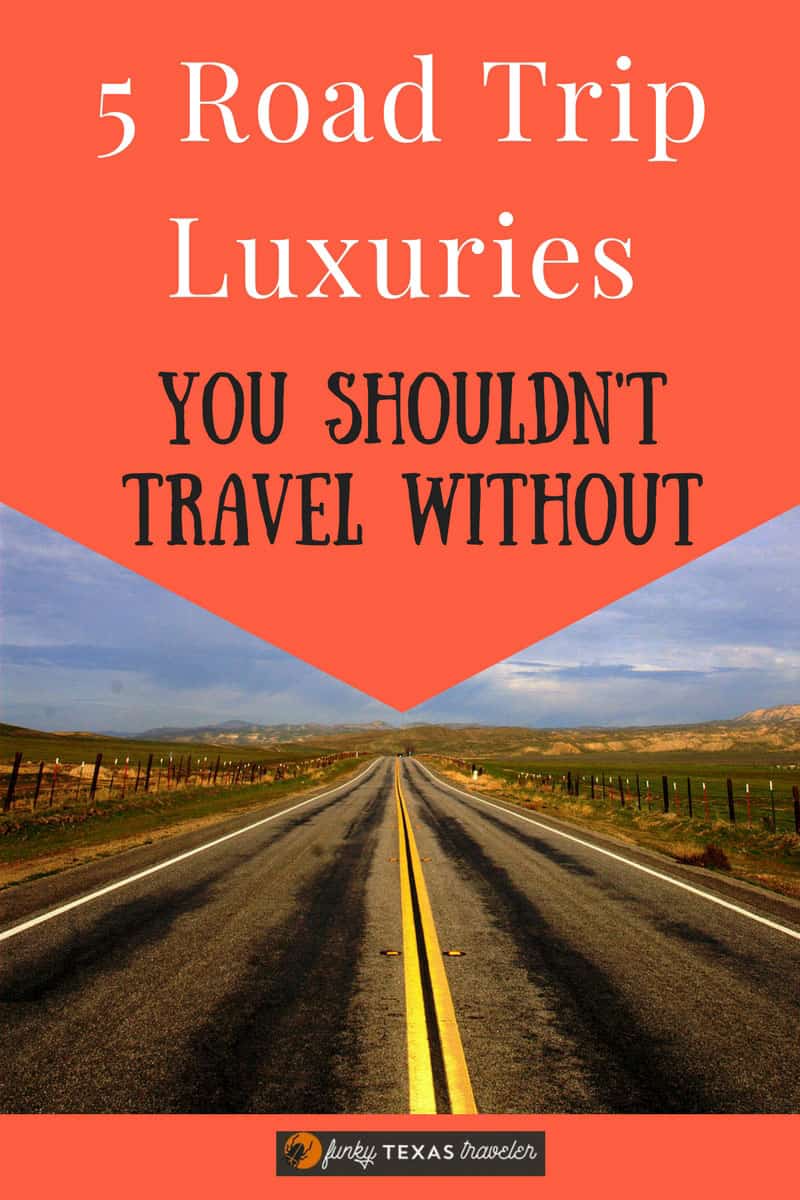 I absolutely love everything about road trips – the adventure, the exposure to new places, even the monotony of long drives, heavy traffic or the panic of being lost. If you are a control-freak/type A personality like me, the traffic, detours or missed exits give us a much-needed reality check. And while I am a Funky Traveler who finds very high-end lodging and destinations boring and soul-less and you may like more decadent surroundings, here are the five Road Trip luxuries you shouldn't travel without. These ARE in order of priority
#1 Road Trip Luxury – Coffee Kit
If your coffee isn't right in the morning, does your whole day start off bad? I share your pain. When I got my travel trailer, I bought the smallest, simplest Keurig coffee maker to make sure I had endless cups of STRONG coffee with cream (preferable heavy whipping cream*). It made a huge difference in my vacation. This year, I decided that no matter where I was headed, if I was in my car, I took a coffee kit that included:
Box of French Roast coffee pods (substitute your favorite)
Ceramic coffee cup
Heavy whipping cream* or something similar – NO POWDER CREAMER, EVER!!!!
Whimsical coffee stirrer from other trips. Cheap coffee stirrers are a wonderful cheap and portable vacation souvenir.

Notice the rattlesnake stirrer from West Texas Trip
Not only does if make a huge difference in your day, it can make you the focus of everyone's morning. My lodgings may be quirky but everyone knows when you come to my room or cabin, you're going to get good coffee.
#2 Road Trip Luxury – Small Car-sized Cooler
Keep your road snacks cool along with wine, cream, and flavored waters and make them easy to access while driving. I've got an old Igloo 16-quart that works well and can sit on the front seat floorboard. That size is easy to carry into cabin and on beach. Best of all, it is the right height for a side table for your wine, coffee, etc. I've been looking at the Coleman Wheeled cooler if it will fit in the same spot. Favorite refreshing and healthy road snacks – sliced apples, sliced jicama and baby carrots with either almond butter or homemade smoke salmon dip (get recipe here)
#3 Road Trip Luxury – Patrol Bag
If you had kids in the Boy Scouts, you have an idea what this is. Keep this in your car's lower center console all the time. You'll find you use it not just on road trips. For me, it's a heavy Ziploc bag supplied with a wine opener, plastic wine glass, all-in-one eating utensil, Swiss army knife/multi-tool, pepper spray and small package of wet wipes.
#4 Road Trip Luxury – Mesh Beach Chair
This is something else to keep in your car at all times too because when you are on the road, you will find places to linger. Say you pass a beautiful park and want to stop for a picnic lunch or find an impromptu concert in a city plaza. Or you could discover your hotel or cabin has a nice outdoor view with uncomfortable or non-existent patio furniture. Trust me, your beach chair will get lots of use.



#5 Road Trip Luxury – Sunhat and an eye-catching wearable

Road trips are all about connecting with a place and the people. Your sunhat can be "funk-tional" and a conversation starter but don't stop there. Go for something that makes it easy for someone else to ask about and start the conversation. For years, I had a necklace with a star made out of a bicycle chain. A few months ago, I bought a fake sleeve tattoo. It works like a charm! Because what is the point of meeting new people and going new places, if you don't break out of your comfort zone just a little bit?
*The Case for Cream
If you take something in your coffee, quit screwing around with skim, 2%, whole, Half & Half. GO FROM THE CREAM! Heavy whipping cream – meow. A tablespoon is all you need. This luxury will add a whopping 50 calories to your day but it taste like a million calories. And here's a bonus – it may help you avoid other binges. Did I mention I was a Weight Watcher Leader for a number of years? These small splurges help you feel less deprived. If you don't have your cooler (#2 on this list), then keep some mini-moo cups of Half & Half handy but only as a last resort.