If you have not visited Big Bend National Park, I'm going to give you five compelling reasons to pick a date and go. These reasons drove my son and me over 600 miles across the state of Texas to experience an incredible adventure in this isolated wedge of the US. You can skip ahead to that story here.Whether you are a native, transplanted or temporary Texan, the true west still waits for you at Big Bend National Park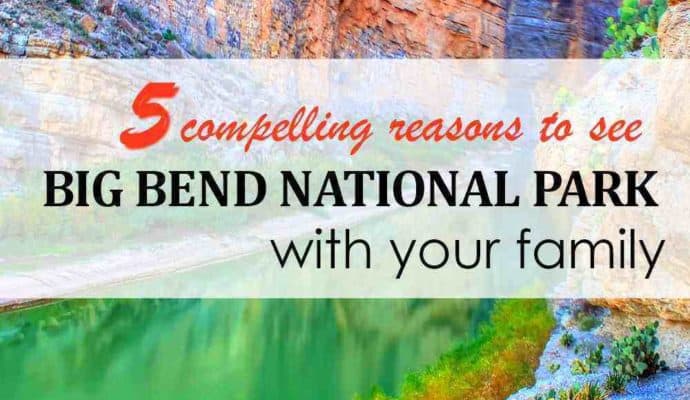 #1 Big Bend National Park is large and lonely.
Whether you find Big Bend National Park hauntingly beautiful or beautifully frightening depends on how enamored you are with neighbors and nearby conveniences. This isolated area about the size of Rhode Island is one of the largest, most remote, and least-visited national parks in the lower forty-eight United States.
The Rio Grande river draws an 118-mile border on three sides of the park. This international border of the US and Mexico cups the park like a hand on the southwest, west and southeast edges .
Canoeers and rafters love this section of the Rio Grande because it flows through spectacular canyons of Santa Elena, Mariscal, and Boquillas.
Parque Nacional Cañon de Santa Elena is on the opposite bank of the Rio Grande and close in size to Big Bend National Park. Easy to see how outlaws and Indians could hide out on either side of the border.



#2 Big Bend National Park has the darkest skies in the US
In 2012, International Dark-Sky Association recognized Big Bend as having the darkest measured skies in the lower 48 United States. The night sky is so star-filled, it's hard to believe you are not in a planetarium show.
#3 Big Bend National Park is full of history
Cabeza de Vaca stumbled close to Big Bend around 1535. He and his companions were the first Europeans to see this area. Artifacts show various nomadic tribes had been living there, at least seasonally, for thousands of years.
At the beginning of the 18th century, Mescalero Apaches and later Comanches invaded the area. The Spanish piled on with a line of forts or presidios to protect what was then the northern frontier of New Spain. Spain was unsuccessful at taming either the Indians or the land and the presidios were abandoned.
In 1848, when the Mexican–American War ended, US Army forts sprang up. These outposts were manned by "Buffalo Soldiers, the name given to African-American troops by Native Americans. The Buffalo Soldiers fared somewhat better.



#4 Big Bend National Park's CCC legacy
A mining boom in from the late 1800's into the 1930's brought in more people trying to make a living in the area, but the boom played out by 1940. By 1933 , Texas Canyons State Park was established. The name was quickly changed to Big Bend State Park later in that same year.
During the Great Depression, 200 members of Roosevelt's " tree army," as the Civilian Conservation Corps was nicknamed, arrived in 1936. Their job was to set up camp and develop a reliable water supply, the first steps to creating Big Bend National Park. Initially, the CCC was made up of single men from age 18 to 25, many from poor families.
The National Parks Service Site chronicles what these young men did. "If you have driven, hiked, or slept in the Chisos Mountains, you have experienced CCC history."
"The CCC built an all-weather access road into the Chisos Mountains Basin. They surveyed and built the seven-mile road using only picks, shovels, rakes, and a dump truck, which they loaded by hand. They scraped, dug, and blasted 10,000 truckloads of earth and rock and constructed 17 stone culverts, still in use today along the Basin road…The CCC built the Lost Mine Trail, a store, and four stone and adobe cottages still used as lodging today. These CCC boys surveyed the park boundary and established trail and facility locations."
The last CCC camp closed in 1942 as World War II loomed. It is hard not to be moved by what they left behind for us all in Big Bend.
5. Big Bend National Park is for all levels of outdoor fans
Big Bend has all levels of accommodations, trails, river routes and activities. One is sure to feel comfortable and help ease you and your family/friends into becoming major Big Bend groupies. From Chisos Mountain Lodge to rugged outback camping, your can work all the way from glamper to crusty mountain man.
Same for hikes, climbs and paddles. Whichever way you go, the isolation and remoteness of Big Bend is inescapable. Modern day stresses are quickly crowded out, sometimes by the more basic stresses of survival. And that's good for us.
Big Bend National Park will change you
So how do you get started on this adventure? Check out the Big Bend site. Read travel stories from other visitors, especially .our bear-tinged autumn hike. Then pick a week and get to it. This is a bucket-list kind of place! And time's a-wastin'.
,