"Pay attention to your longing and your discontent"
– Mary Morrissey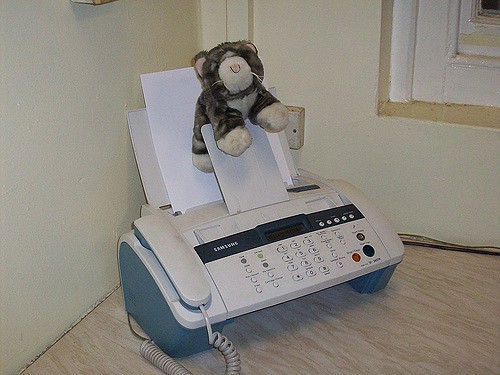 The fax machine was the most tangible life changing technology I've experienced. It caused the most immediate retooling of my life by giving me back enormous amounts of time I spent driving to my graphic artist to check concepts, job progress and to proof before printing. It was always stressful to figure out when to make the run from Houston's Gulfton area to the Heights.
Most of the other big breakthroughs – computers, email, Microsoft Office, cell phones, Facebook, twitter – ultimately all became time-sucks by teasing me with the lure of increased efficiency. Now more was demanded of me in the same 24-hours.
When I began retooling after some delightful detours, I looked hard at what really added to my enjoyment and what added to my sense of obligation. And I looked at what I needed in my toolbox.
First how big a tool box did I want? Size is important because it tells you if you want a tool box to anchor you or to free you. My husband's tool box is the size of our garage. He is a homebody who along with his many close friends, loves refining. He is happy to strike out on adventures but only if they are judiciously spaced throughout the year. His discontent is feeling that he has left too many things undone and his longing is for time to "piddle."
My toolbox is about the size of my green Subaru Outback's cargo area. A canvas chair, car canopy, beach mat, small ice chest, French press coffee pot and plug in water heater. It compliments what I've been longing for.
What you cannot see in my toolbox are the mental aids I'm adding. In an industrial sense, retooling is revising or reorganizing for the purpose of updating or improving. Some below don't seem in sync with the goal to live life with a traveler's open heart and eyes, but my personal WD-40 tactic is listening to my gut, no matter how nonsensical, to get me moving.
Public Speaking – When I knew I had to give a presentation, whether to my longtime co-workers or a new client group, I was anxious for days. I got through it thanks to the Ambien that helped me get a little sleep the night before the performance. A Xanax right before I went on settled me just enough to stand up and speak my opening sentence. Then I was usually fine, more than fine, to be honest. I am good at it. And after I would finish, I felt such elation for facing my fears, but more so for making a shared connection with a big group of people to entertain or educate them. Luckily during my last few years on the job, I had to get up in front of groups more frequently. I still depended on Ambien and Xanax (probably always will), but I was starting to look forward to it. I did not want to slide back into terror now that giving talks was not a regular part of my month. Emotionally, my instincts are telling me that what my future holds is going to be in some way accomplished because of this training. So I went to a Toastmaster meeting during my first week back from my Key West reboot after my layoff.
Writing – This was something I always loved to do, but had used my skill mostly to get appointments with people who did not want to see me. I was inspired by one of my fellow ex-employees (who has now been rehired) who wrote her first romance novel during her layoff. She took creative writing classes, attended romance writer events, and joined writing groups. On a Friday in February, I looked into writing classes and found the only creative writing class that was being offered starting Monday was "Memoir Writing." It was held at Rice University in the Glasscock School of Continuing Studies. Memoir writing did not seem appealing but my gut, speaking through dung beetle, said "you'll find something valuable wherever you go. Roll it all up and use it." I met other newbie writers who were all dealing with life changes – layoffs, a Katrina relocation, death of spouses and parents, empty nests. At first, we wrote entertaining but simple pieces – "Why I'm named Linda" was my first attempt. It was witty and superficial but, to help with my facing my fears of public speaking, I shared it at our second class. As we met for more Mondays and became comfortable with each other, we mined deeper and unearthed more. I was working on an assignment about what I was doing when I heard that the Challenger had exploded in January of 1986. Suddenly a secondary character and the searing memory of my husband's leaving washed over the story like a wave. All I could do was tumble along until I could stand up again and see what I had written. When I read it to the class, it touched them. Others read equally revealing and consuming accounts of personal change. All of us were exhausted at the end of the two-hour class. We had crossed the line to tell real stories. "Memoir Writing" had turned out to be the exact kind of creative writing class I needed.
Blogging/Website Design – Sometimes you already have the tool, you have just forgotten where it is or how to use it. I took classes at Houston's Leisure Learning about five years ago and set up an initial site three years ago. It is now time to take out this tool and sharpen it. You see the process happening here. (I'm updating this post a year after I wrote this – As with learning a new language, I can feel my brain opening new pathways as I digest unfamiliar words and processes. Starting a blog is cheap and easy and you can do it from your favorite chair. This might be the easiest step to start with the most lasting benefit. To start your blog, click here and I'll walk you through what I've learned.)
Singing Lessons – I gave up on lofty New Year's Resolutions many years ago, around the same time I stopped denying myself chocolate and wine for Lent. Instead, both seasons were good opportunities to add something useful to my skills. One Lent, I gave up worry. Then every time I started to agonize, I put it off until after Easter. One of my more successful New Year's Resolutions list included just two things – relearn to parallel park and perfect one karaoke song. I found out Cindi Thiel from my book club was a doctor of operatic voice. Her specialty might not be right for the goal of karaoke but instinct drove me. It was an awakening. Not only did I learn my desired song – "Angel from Montgomery", Cindi also helped me find my range and trained me on a second song – "Leaving on a Jet Plan". Like everything else in life, I may not have been born with Gaga's natural talent, but Cindi developed what I had through exercise, techniques and stretching my natural ability. Her best piece of advice was " know the words of the song you are signing." The unexpected benefit of the six months I spent with Cindi was learning how to enjoy every performer at a deeper level because I had a better understanding of what went into each note they sang. And I've sing "Angel From Montgomery" at dive bar in South Padre, at a drag queen show in Key West and around the campfire at the last Happy Campers outing. It is my most and only requested song!
Impulse Awareness – Shopping out of boredom or picking up the National Enquirer at the grocery store are both impulses. But so is signing up for the blogging class, the singing lessons, Toastmasters, and joining the memoir writing course. Because I'm beginning to figure out the life I want to fashion for myself, I'm checking my impulses with my instincts and if my gut says "trust me, this helps", I'm charging ahead.
What skills is your gut telling you to acquire? Might be fun to listen in.