Years ago, I was visiting my daughter in San Clemente, Califor
nia with Karen, my trawler diva friend and fellow animal fan. We were walking on the sandy footpath above the Pacific ocean that runs next to the Coast Highway just south of Carlsbad, playing an informal game of dog bingo to see who could spot the most breeds. Canines were everywhere. When we saw someone not leashed to a four-legger, we knew we were meeting a fellow tourist.
Dogs are an essential part of the California beach life and apparently have been for a long time. Karen told me that when her parents were first married and the Navy stationed them here, her mother had an idea to rent dogs by the day to visitors.
Karen's mom will be happy to know that someone picked up on her idea. Friends of Animal Rescue run a resale shop on South Padre Island that supports care of animals abandoned and lost on the island. Even better, though the odor can be somewhat pungent, the resale shop shares space with all the cats and dogs that need new owners. And the Friends are happy to lend the dogs out for a quick walk or a few hours sharing your towel on the beach and helping you mask your tourist origins.


Match them to your mood at the moment. Pick up a pocket pooch if you are feeling like a Kardasian. Or channel Ryan Gosling and leash up a bigger dog with a couple of quirks like six toes on one paw, an under bite, and soulful, slightly off-center eyes.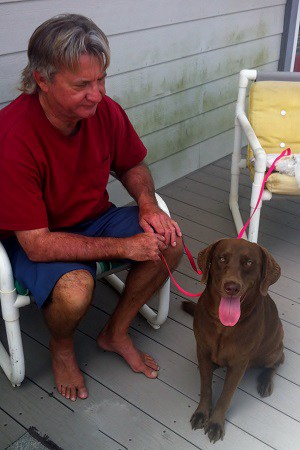 That would be Pork Chop, the chocolate lady lab that my brother and I test drove one weekend. Apparently, Pork Chop had a fan following because a girl was waiting to walk her as soon as I checked the dog back into the Friends shop. A few days later, I saw the loopy lab strolling down Constellation Street with another beach goer. I checked on Pork Chop a few months ago and some one had permanently checked her out and given her a forever home.
When I bring my nieces and nephews down for holidays, the first stop is to see what new dogs and cats are hanging around the resale shop and decide who we are going to take for a spin. And while the infamous"Puppy Dog" sales tactic works on many potential pet parents, the volunteers at the Friends shop are just happy to have you give their dogs and cats some one-on-one time away from the herd.