One of the first pages I wrote when I created the Funky Texas Traveler was how to live life with an adventurous attitude, even if time, money or bravery is lacking.
For me that meant getting out of the chain hotels and tourist traps and getting in touch with my adventurous self. The experience has turned me into a fan of camping.
How do you feel about camping:
Camping is a like eating raw tomatoes – you either like it or hate it. Every time I tell one of my Jazzercise instructors that I'm going camping for the weekend, she looks at me like I've had a psychotic break. Yet for every person who hates camping, you have someone else who can't wait to go.
Last Friday morning, my husband and I had just finished loading up our travel trailer and putting our bikes in the back of our truck for a weekend in on the south shore of Lake Bastrop near Austin. A businessman drove past in a luxury SUV, rolled down the window and shouted "Take me with you!"




Camping can have that kind of effect on people. Just because you are not a rugged outdoor person, don't assume camping is not for you. In a perfect world, I used to think that I'd drive around in my Subaru Outback towing a little Casita Spirit behind me like a turtle shell and I'd stop at whatever sunny rock looked promising. In the real world, it took a while to find my camp persona.
Finding your camp personality:
Like Goldilocks and the three bears, I tried tent camping – a little too buggy and hard to find a soft place to sleep. Then I moved up to a tiny 1992 pop-up camper so I could tow it behind my small SUV. You should have seen me parked at a Buccees next to all the big pick-up trucks pulling huge 5th wheel trailers. But I didn't like the trek to the bathroom in the middle of the night. Next I got a hybrid pop-up with bathroom and kitchen, microwave, and other luxuries. It slept up to eight people and was great for family and friend vacations. Then our friends started getting their own campers and we didn't need all the space so we got a little vintage cruiser with a queen size bed, big bathroom and retro red and white decorations – just perfect. This past weekend was our maiden voyage.
What are my top reasons for camping?
Unlike people who stay in hotels, camp people expect to meet fellow travelers. You can sit under a tree or your awning and people feel comfortable and safe walking around and talking to strangers. Many people have dogs or unique set-ups and you have a reason to connect. "Where you headed?" and "Where have you been?" "What kind of dog do you call THAT?" I love to talk to RV full-timers or the park hosts. They have usually closed the book on one phase of their life and are hungry to see what else is out there. And they seemed to have released the need for more stuff
You get to take off your electronic leash. You might use your phone to check the weather or investigate whether that was poison sumac you just brushed up against, but you see don't many adults glued to their email or Facebook or kids playing video games. People are moving around and socializing.
Our Latest Campout:
For example, this past weekend, we met up the Happy Campers on their annual fall camp out. A little background on The Happy Campers – it started with a group of people who grew up together in Baytown, on the Texas coast. Many later went to University of Texas together. In 1972, as starving college students, they started getting together for camp outs, the only entertainment they could afford. Turned out they loved it and the happy campers started attracting more and more people. We got sucked into the group about five years ago.
During the day, part of the group hiked the north shore loop. Some of us took our bikes on a nine mile trail ride, others drove into Bastrop to walk around the town square. Some just sleep in the sun and drank beer.
On Saturday night, we all gathered for a chili supper under the stars supplemented by whatever side dish or dessert you wanted to share. There were are 35 of us all together, ranging in age from 2-year-old Samson to 90-year-old Howard. Somebody picked up a bunch of glow sticks and the kids ran around pretending that they were some kind of explorers. Some of the little boys tried to convince me that my 25-pound blue-eyed mutt (helplessly shy Lucy) was really a courageous Alaskan husky. We pulled our lawn chairs into a circle, watch the kids use their imagination to play instead of their thumbs, pointed out constellations, had a sing- along and reconnected.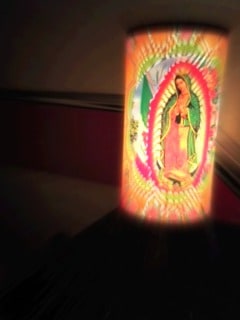 Lucy, my husband and I wandered back to our campsite around 11 pm. It was a mostly clear, quiet night with temperatures in the high 60's. We poured another glass of wine, sat outside and soaked up the silence. And then we went inside and opened all of our windows and fell asleep, lulled by the night sounds and the fresh air. Try doing that at a La Quinta.