Here are three I think you will enjoy.
While South Padre Island has lots of luxurious condos and hotels, I've unearthed some unique accommodations that carry the water theme to ridiculous depths.
Traveling north up the Texas coast to Seadrift, this place gets you to the real heart of your seafood fixation.
More interested in the high desert of the Big Bend area? How about digs in the heart of the Terlingua ghost town with the residents of a cemetery as your closest neighbors?
South Padre Island KOA Water Tank Condos
South Padre Island was hard to visit until 1954, when the original Queen Isabella causeway was completed. At that time, the island was mostly sand dunes and open beaches with a few restaurants and bait shops.
In 1974, the new Queen Isabella causeway was built a bit farther north and old causeway was made into a very long fishing pier by chopping out the center section. The two water tanks that provided water for the island's early growth sat forlorn near to the base of the old causeway until the former owners of the KOA property saw potential.
An eyesore becomes a showplace
The two giant tanks, each with a capacity of 330,000 gallons, have become hidden treasures at the funky end of the island. Even many locals don't know about them .
Roomy and dry
The bottom level of north tank is the office, extensive gift shop for the KOA and restrooms for the resort pool. Upstairs (no elevators) are three spacious condos overlooking the pool and the Laguna Madre's South Bay. When Space X starts to launch rockets on Boca Chica, this resort and these condos will have a front row seat.
And while the water tank condos don't have outdoor balconies, the other water tank provides some wonderful extras.
Ground level for that
tank is now a large common area and party room with a bar.
Upstairs is a large fitness center.
Outside is an outdoor deck that faces the Laguna Madre, Dolphin Cove and a sand-covered playground.
Fall and winter a great time to visit
KOA South Padre also has waterfront cabins and lots of space for RV's and travel trailers but book early. This resort is very popular with families in summer and winter Texans in the colder months. Try reserving a condo in the tank in Sept, October or early November, which really the best time to visit South Padre Island. Or do it now. A few weeks ago, all three condos were available and the Island had sunshine and California-type weather in late January.
A walkable location
Staying on this part of Island means you can spend your whole vacation without getting back in the car/truck. It is a very short walk to at least four popular restaurants. In fact, the KOA shares its parking lot with Pier 19, a seafood restaurant built on the old causeway fishing pier.
Beware of pirates
On the south section of the old causeway, right before the center opening, is an outdoor bar. The bar is open seasonally but even if it is closed, the location is still a great place to see a sunset. It is also a safe place to watch as the Black Dragon pirate ship regularly sneaks up on Pier 19 from its berth in Port Isabel. My great niece has begged me for years to take her aboard and join the pirates as they plunder the "unsuspecting" target. You'd think Pier 19 would learn.
Ride the Wave across Texas's 2nd longest bridge
Nearby Sea Ranch Marina has fishing and dolphin watching excursions. Down the block and across the street is the beach and Schlitterbaun. The Wave is the Island's free shuttle that takes you all around the island and to Port Isabel. Spend a day in the old Lighthouse Square and climb the only lighthouse in Texas still open to the public.
Whether it is a weekend with the girls or the guys, an anniversary trip or someplace different to take the kids, what a story you will have about your weekend in the "tank".

Susie Belle Boatel at Breezy Palms in Seadrift
When you are on the Texas coast, do more than watch the shrimp boats out on the horizon – stay in one. Don't worry about getting seasick. The Susie Belle is permanently berthed on solid ground. John, her owner , calls the Susie Belle a "boatel". We found her through a happy accident.
A secret part of the Texas coast
A few years ago, we had to scrap a New Year's Eve hunting trip to an old rancho in Laredo because of flooding. It was at the last minute and we were in the mindset for something rustic and outdoorsy. Decades ago, I had met author Pete Barthelme right before he left Houston and moved to Seadrift to write full time. I'd never heard of the place, but I liked the mysteries Pete produced there. Seemed like a good time to check out the place.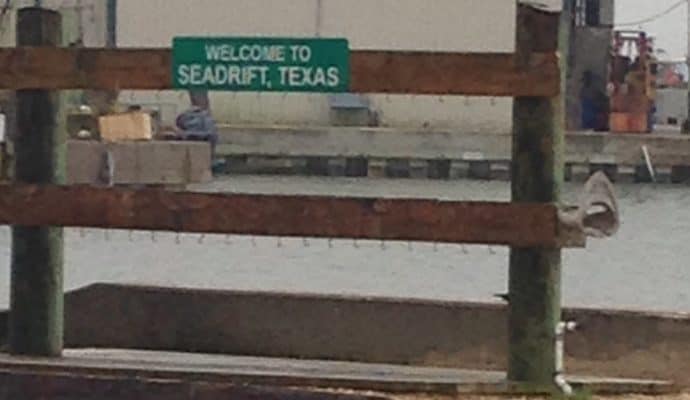 TripAdvisor had a review on the Susie Belle Boatel at the Breezy Palms in Seadrift. I called and found out that owner's extended family had just vacated the boatel. He could have it ready for us that afternoon. By 4p, we'd climbed aboard, met John and learned more about how the boatel came to be.
Born and built in Seadrift
The Susie Belle, renamed after John's wife, had been built on-site in Seadrift about 35 years ago. She'd sailed under different names and has been both a shrimper and an oyster boat in that time.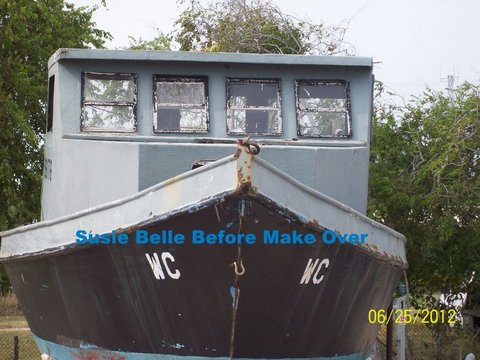 John had always been interested in converting something like a bus into lodging. Why not a shrimp boat? Turns out there were lots of why nots. He bought the derelict for $1,000 and poured 2 1/2 years and another $30,000 into making her into a place to stay. To stabilize her hull, John poured 10 yards ( over 30,000 pounds of concrete) into her hull. People around Seadrift who hadn't gotten the word that she was being repurposed, asked John how she could possibly float again.
Susie Belle's transformation
Now the Susie Belle sits just a half a block from the boat docks where she spent her early life. Inside, she's all polished wood and portholes. A big v-berth queen size bed, two bunk beds and a mate's bed (all twin size) provide lots of nap options.
The kitchen is minimal with a refrigerator and microwave.
However, we also dug out a electric skillet and crockpot and were able to use those two items to make a Lobster Risotto with truffle oil.
A simple place
The wooden outside deck faced the Seadrift boat docks . Seadrift Bayfront Park and a very long lighted fishing pier are nearby. There are no chain restaurants here yet (yeah!). Mom and pop seafood and Mexican restaurants are scattered around town. We bought fresh seafood at the Chunky Monkey, a short distance from our vessel and ate huge oysters as an appetizer for our risotto. You can also buy your bait here.
Explore history, wildlife and nearby ports
With Seadrift as a base, you are in the heart of the Coastal Bend. We drove to Port O'Connor, stopping by the side of the road to watch and listen to a huge flock of Sandhill cranes, resting in a field. We visited the ruins of Indianola, once a rival to Galveston with 5,000 people. The town was scoured out of existence by intense hurricanes in 1875 and 1886. Heading south on Hiway 35, we visited friends wintering in Fulton Beach and ate lunch at Charlotte Plummer's Restaurant. We sat in the warm sunshine, shielded from the cold wind behind the glass windows that look out onto Fulton Harbor.
There is only one Susie Belle Boatel but even if you can't book her, John's got other cabins around her. Seadrift and this working part of the Texas coast is worth a visit.
Retro Camping in the Terlingua Ghost Town
When visiting Big Bend, try setting up your base in the Terlingua Ghost Town at Retro Rents, a spread-out camp of five refurbished Airstream trailers strung along a gutted road. Each trailer is named. There is Rosie, Josephine, Betty, Bachelor and the most recent addition at the top of the hill – a 1977 24 foot Argosy/Airstream named Alice. Sam, the town vet owns the little aluminum herd along with his artist wife, Dani.
We got Alice and loved her from the minute we saw her. The feeling just got stronger over the two days we lived in her. She was set off by herself with the residents of the old Terlingua cemetery as her closest neighbors.
Alice has a full bath (relatively speaking), plenty of storage, a more complete kitchen than the Boatel and wraparound windows looking out onto the mountains in Mexico. Improbably decorated with flamingos instead of roadrunners, Alice was a joy to occupy.
From bed you could watch the sun rise over the mountains. At night you could look north to the stars over the cemetery.
After reviewing Alice's idiosyncrasies with Sam, we opened a bottle of wine, turned on the i-tunes and listened to Marty Stuart's "All The Pretty Horses" soundtrack as we toasted our arrival and watched the changing shadows in front of us.
At Retro Rents, you are in the heart of the Terlingua Ghost town. To find out about the interesting people and offbeat places we visited in Terlingua, click here.