"Going to the woods is going home, for I suppose we came from the woods originally."
John Muir – Father of our national parks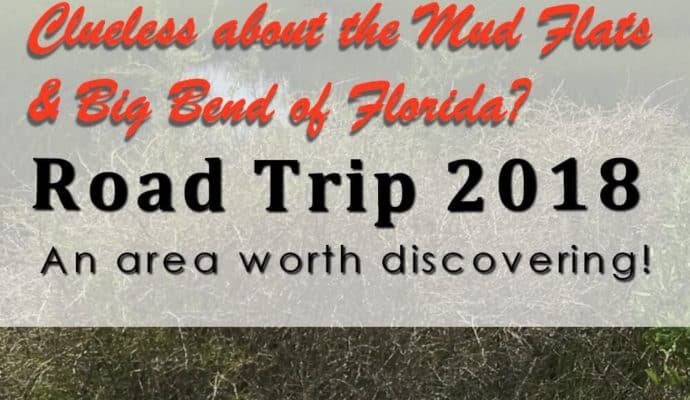 No matter how far you grow up from the places your parents were raised, those unfamiliar places still form part of who you are. The mud flats and big bend of Florida are in my DNA, courtesy of my dad. Time to find out what blame or praise they get for the person I have become.
If, like me, you were raised in a nomadic family, you know what I mean. Only spending weeks at a time with your extended kinfolk doesn't tell you much. Even less so if most of those visits happened when you were a kid. Face it, when you are a kid, it is all about stirring up mischief and having fun.
Going where?
Perry Florida is the destination for Road Trip 2018. Perry is located in what my kin tell me is the mud flats and big bend of Florida.
Never heard of that region? Me either. But I found out it is well worth crossing 3 1/2 states to visit! You can catch up on other reasons I'm headed this way by clicking here.



Mud Flats and Big Bend of Florida
The Big Bend of Florida and the Big Bend of Texas may look similar in shape from the space station, but all that disappears on closer scrutiny.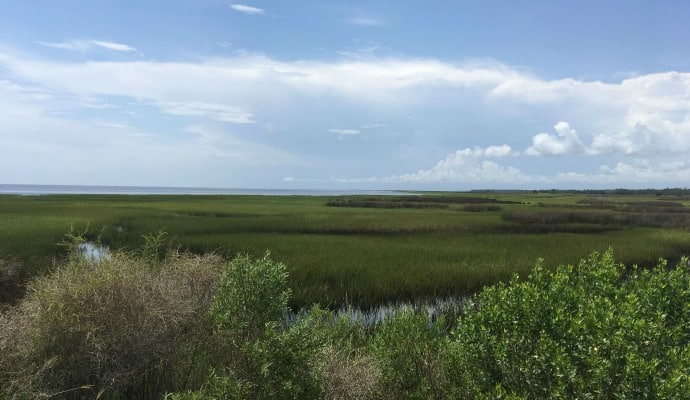 Big Bend of my home state of Texas is desert and mountains with the Rio Grande as an international border between US and Mexico. Big Bend of Florida is densely forested and bordered by the mud flats of the Gulf of Mexico. According to Visit Florida, manatees outnumber people in some parts of this region. Or maybe gators.
Ta-co vs Tay-co
Because this area is still rural, instead of having high schools and newspapers named after the city, they are named after the county. My people come from Taylor County, shortened to the first two letters in the words "Taylor County". How was I to know? My cousin's thought it was hilarious that I read signs as "ta-co" instead of "tay-co." You can never hide your Texan-ness!
The recent unpleasantries amongst the states
The dense forests of the Florida Big Bend are probably reason my father's kin settled here after the Civil War, or what my grandmother used to call "the recent unpleasantries amongst the states."



Many moved from Georgia and the Carolinas to chop down the giant pines that provided turpentine, lumber, paper and now cellulose. Logging trucks are still a common site. Every night, I heard the mournful whistle of 3 a.m. logging train.
Stats for Day 2-5 – Touring Perry, Stienhatchee, Deckle Beach and Cedar Key in Florida (766 miles and 60 years from home)
10 Eye-opening moments
Driving into Taylor County down US Route 19 – appropriately named the Georgia/Florida Highway. Seeing signs for boiled peanuts and Baptist churches every mile or so.
Realizing I hadn't been this way in thirty years. Back then, my daughter was one, my dad was still alive and so were my grandma and great aunt. Now my grandmother's generation is completely gone and Dad's is getting thin. I was fast becoming part of the oldest generation, the one that passes along the stories.
Finding out my dad and his siblings were the poorer relations of the cousins' I was now staying with. The family of these cousins had back-breaking but steady jobs in Foley, a company town for the workers at Mr. Foley's logging business.
Life in a company town was a fond memory for my kinfolk. Foley had a school and stores and everything you'd see in a regular community. When the town dissolved a half century ago. the company let workers move their sturdy wooden homes to other places.
Texas outlaws had nothing on bad men in Perry. Perry was the adjacent municipal town to Foley and where many of my cousins moved after Foley disappeared. Perry also had a reputation for lawlessness. It was the setting of "Florida's Flaming Six Guns" a story in Adventure Magazine June of 1958



Who is really responsible for my wanderlust? After this visit, I'm even more convinced that my grandmother, who was known as the meanest women in Taylor County, did her children a favor with her harsh ways. She used her orneriness to drive all but her first-born son out of Florida. Once gone, they built good lives.
I learned a quick way to read old tombstones by spraying shaving cream on them. That worked so well, I was able to find a mistake on the official records of my great-grand daddy.
Having extended family who can fill in the gaps is wonderful. I was wrapped in love by my father's cousins. Talking to them brought my father and my grandfather to life again and in ways I never knew them. To me, Dad and Granddaddy were parental figures. Now I got to see them as boys and young men.
People around here take mud seriously. Iron Horse Mud Ranch is 500 acre park for "true mud enthusiasts." Think Disney World for people into mud bogging in a big way.
The forests and mud flats of the Big Bend of Florida are beautiful in a very different way from Texas. I want to go back and spend more time in Steinhatchee, scooping up and eating scallops fresh from the Gulf. I want to go back to Cedar Key and slurp up spicy chowder rich with local clams. Most of all, I want to experience life along an uncrowded coast that backs up to an endless forest.
Share your road trip discoveries
I love hearing from you!